Startup Bootkamp
Saturday, 04/26/2020 – 04/27/2020 01:00 pm – 06:30 pm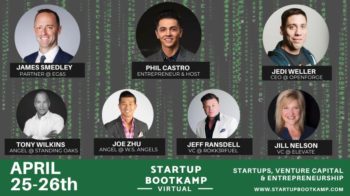 Online

Florida
Website
Cost: $75-$115
For the first time ever, Startup Bootkamp is going virtual on April 25-26th!! Don't miss this amazing opportunity to join us from the comfort of your own home.
This nationally known workshop will give you tremendous insight into the world of startups, venture capital and entrepreneurship. This impactful experience is specifically created for aspiring entrepreneurs or early stage founders and has been hosted at the most prominent incubators across the country. Whether you want to launch a startup, raise money from investors or create a better go to market strategy, this bootkamp is for YOU!
This is a two half-day virtual workshop and virtual happy hour networking bonus. This intimate event has a limit on attendees, so be sure to grab your spot on the right side of the screen before it's too late!!!