It's Meatless Monday Enjoy A Vegan Pho Meal At Home From Phuc Yea!
Monday, 04/13/2020 – 05/04/2020 04:00 pm – 09:00 pm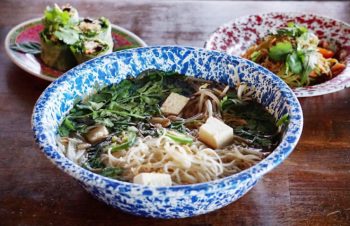 Phuc Yea
7100 BISCAYNE BOULEVARD,
Miami, Florida 33138
Website
Cost:
Phuc Yea's launches their Vegan Pho Meal served every Monday, this is a new addition to their current online menu. Owners Ani Meinhold and Cesar Zapata (Chef and Owner) wanted to show love to their Vegan customers. Phuc Yea's Meatless Monday is for all, whether you are Vegan or just want a fresh new start to your week. The new 3-Course Vegan Pho Meal includes Vegan Pho for 2 mushroom broth, rice noodles, tofu, assorted veggies, Veggie Summer Rolls, salt & pepper tofu, carrot, jicama, cucumber, coconut, hoisin and Green Papaya Salad, lemon lime vinaigrette, herbage, carrot, crispy shallot Tropical Fruit Salad, passion fruit, seasonal berries, lychee, mint for $45.00.
Phuc Yea offers a selection of shareable plates that capture the soulfulness and passion behind family-rooted recipes, the restaurant is inspired by Aniece Meinhold's Vietnamese heritage and Cesar Zapata's Third Coast culinary roots. Under one roof, guests are invited to marvel at Biscayne's blossoming Mimo district; embrace '90s hip-hop, street-cool music; and enjoy Cesar's version of Viet-Cajun cuisine.