Leap Year Frog Leg Eating Competition At Phuc Yea
Saturday, 02/29/2020 – 02/29/2020 06:00 pm – 08:00 pm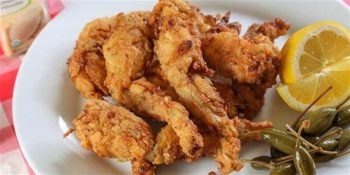 Phuc Yea
7100 Biscayne blvd,,
miami, Florida 33138
Website
Cost:
Phuc Yea will be hosting a Leap Year Frog Leg eating competition on National Frog Legs Day February 29th from 6-8pm. The event will be hosted by Local Influencers as they root on teams who try to eat as many Frog Legs as possible. Those looking to join in on the competition can purchase a $50 ticket to register (https://bit.ly/2STzpHu), the ticket includes all you can eat frog legs including free beer. The winning team will win a complimentary Sancocho Sunday brunch & booze for the team at Phuc Yea, plus a Party Hardy take-home gift bags with wine, bar goods and more. Valued at $150pp. Those looking to join in on the fun but not compete can also attend as Frog legs will be featured as a special on the Happy Hour menu that day for $18.00.
Tickets to the event will be $50 Each ticket includes with all you can eat frog legs and unlimited beer, each ticket will grant guests the opportunity to join a team. To purchase a ticket visit: https://bit.ly/2STzpHu
Phuc Yea is a flavorful Vietnamese-Cajun cuisine restaurant created by Cesar Zapata and Aniece Meinhold in 2016. Wearing the hats of co-owner and Executive Chef, Cesar Zapata helms the kitchen, where he creates Phuc Yea's signature Vietnamese-Cajun fare, and Aniece Meinhold, whose German and Vietnamese heritage brings a new take on Asian cuisine to Miami. FOH, beverage programs and design. Phuc Yea is located at 7100 Biscayne Blvd and is open Wednesday –Monday, where it serves lunch, dinner, Sunday brunch and daily happy hour.