A Taste of India Class (Adult BYOB / 18+)
Saturday, 03/07/2020 – 07:00 pm – 09:00 pm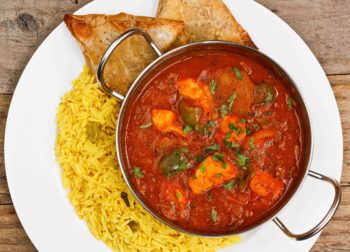 Taste Buds Kitchen
14740 sw 26 St`,
Miami, Florida 33185
RSVP / Register
Cost: 65
Join us as we taste and explore the most popular Indian spices and create our favorite recipes from scratch. Want to learn the difference between whole spices and ground, and coriander versus cumin? The variety of Indian spices and combinations are never-ending, and we love them all. From toasting and blending our own flavorful spices for Garam Masala and Tofu & Chickpea Tikka Masala, to our warm and fresh handmade Naan and Veggie Samosas, this vegan menu is sure to please. Grab a friend and let's enjoy a spice-filled culinary adventure together. Vegan.
You'll work together in teams of 4 to 5 per table to create our culinary masterpiece. If you're coming solo or with a plus one, get ready to meet some great new friends!
Registration is required, space is limited.