River Of Art Show at Venture Café Miami #ThursdayGathering featuring James Brutus
Thursday, February 20, 2020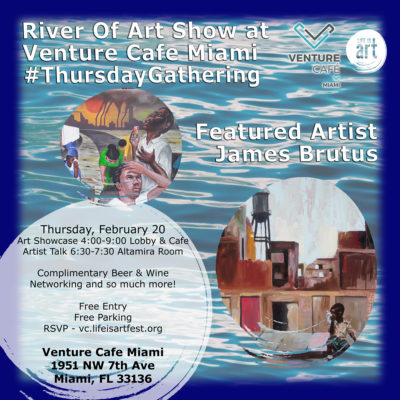 4:00pm – 9:00pm
Venture Cafe Miami
1951 NW 7th Avenue
Miami, FL 33136
FREE
RSVP on Facebook
Life Is Art is excited to announce that we have joined with the immensely popular Venture Cafe Miami to expand the audience for local art and artists. Third Thursdays, Life Is Art will host a River Of Art Show at the Venture Cafe Miami #ThursdayGathering.
Art Exhibition 4-9
Artist Talk 6:30
Free Entry
Free Parking
Free Wine & Beer
Tons of great networking and interesting breakout sessions to attend!
FEBRUARY FEATURED ARTIST: James Brutus
Born and raised in Miami, FL. James Brutus earned his BFA Degree at the College for Creative Studies, Detroit, Michigan. There, his focus geared towards Illustration and Fine Art.
James' body of work focuses primarily on painting and portraiture where his reputation of powerful figures balance between meticulous brush strokes, dynamic loose energy, and an explosion of tropical colors. These figurative pieces question the social notion of nature and beauty; thus the age-old human longing for perfection.
James' current work draws from his parent's proud heritage and cultural influences of the country, Haiti. Now, James' adopt Moorish style elements from the city of Opa Locka, FL, which were drawn from mosaic tile pieces and architecture facades.
IG: @j_b_r_u_t_u_s
FB James Brutus Art