The Tarot and Tonics experience at Phuc Yea!
Thursday, 01/30/2020 – 07:00 pm – 10:00 pm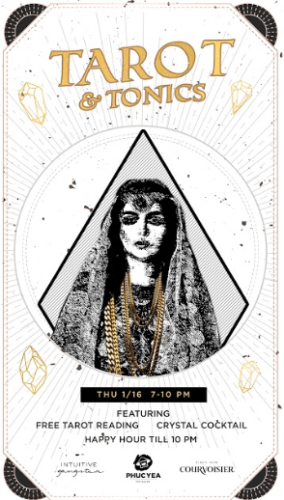 Phuc Yea
7100 Biscayne blvd,
Miami, Florida 33138
RSVP / Register
Cost: $22
Phuc Yea will be serving crystal-infused spiritual tonics such as Rose Quartz Crystal Punch featuring our friends at Courvoisier & Hella intuitive truths by our own sultry Spirit Success Specialist, Jenna G. What is a Spirit Success Specialist? Spirit success specialists who work with the spirit or the soul to heal illnesses at the undercover level. That is how they are able to gain access to the intuitive wisdom channeled directly from the universe, God, the spirit world, and so on based on your beliefs.
Jenna's spiritual work focuses on removing the blocks in your professional business or the blocks that are keeping you from getting down to business. With her focus on development romance and success and a no-nonsense, no holds barred approach to spirituality. She is best known for sounding the siren under your latest business venture or igniting the siren within to take your life to that next level-high vibe.
Phuc Yea is a flavorful Vietnamese-Cajun cuisine restaurant created by a husband-and-wife team, Cesar Zapata and Aniece Meinhold in 2016. Wearing the hats of co-owner and Executive Chef, Cesar Zapata helms the kitchen, where he creates Phuc Yea's signature Vietnamese-Cajun fare, and Aniece Meinhold, whose German and Vietnamese heritage brings a new take on Asian cuisine to Miami. FOH, beverage programs and design. Phuc Yea is located at 7100 Biscayne Blvd and is open Wednesday –Monday, where it serves lunch, dinner, Sunday brunch and daily happy hour.
MORE DETAILS:
Tickets to the event will be $22. Each ticket includes FREE reading + a spiritual tonic. Happy Hour specials until 10PM! You could RSVP to this link https://www.eventbrite.com/e/tarot-tonics-tickets-89137557835
First 10 RSVPS receive an Intuitive Gangster Biggie Manifest Candle, next 10 RSVPS receive a Tupac Wisdom Candle, & the following 10 receive a Cardi B Manifest Candle. For more information, visit https://www.phucyea.com or call (305) 602-3710. Follow @phucyea on all social media platforms for more information as well.
When: Thursday, January 30th from 7:00 PM to 10:00 PM
Where: 7100 Biscayne blvd, Miami FL 33138
(Date was changed from the 16th to the 30th)