Miami Art Mob Presents Miami Marine Stadium If Seats Could Talk Seat Artworks
Wednesday, 12/04/2019 – 12/09/2019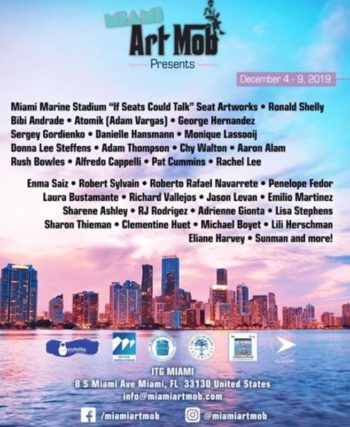 ITG Miami
8 South Miami Ave,
Miami, Florida 33130
RSVP Here 
Cost: Free!
This creative Miami Art Mob Team is ready to Mob your senses with Art, Music, Drinks and much more in the very ❤️ of Downtown Miami at the Historic Macy's Building – on the Second Floor Gallery. Sixteen artists will display their Miami Marine Stadium seats artworks at the Miami Art Mob Exhibition at the Historic Macy's Building in Downtown Miami during Art Basel. Our artists will also exhibit their incredible artwork.
The Marine Stadium seat artwork project is sponsored by the City of Miami.
The seats are a part of a larger effort to continue to build support for the restoration of the Miami Marine Stadium. In 2017, original seats of the Marine Stadium were given to artists to allow the artists to create new works of art. Artists were told that they could do anything with the seat-keep it as is, take it apart, incorporate it into other art-just create a new piece of art that is inspired by the Marine Stadium. To date, over 60 artists have completed work on the project. Much attention to the "If Seats Could Talk" project has been given by the Press during our four-month long museim exhibition in Miami Beach.
All of the seats can be seen at: www.restoremarinestadium.org All of the Marine Stadium seat artworks will be available for purchase during our 2019 Art Basel exhibition. Angela Shlyakhov of Anzhelika Productions will curate our exhibit, as she had done numerous times before. The exhibit will also feature special photographs of the Marine Stadium by photographer Pedro Suarez.
Originally built for boat racing in 1963, the Miami Marine Stadium-located on Virginia Key on the way to Key Biscayne-is considered an icon in Miami. The Stadium's folded plate roof was at one time the longest piece of cantilevered in the world. The Stadium is on the Federal Register of Historic Places and has been recognized as a national treasure by the National Trust ForHistoric Preservation. During its years of operation through 1992, the Stadium featured boat races, special events, and concerts by performers such as The Who, Jimmy Buffett. Elvis Presley even filmed a movie there. Closed since 1992, the City of Miami is now developing plans for its restoration. Many of
Over 30 artists will be featured at the Miami Art Mob 2019 Art Basel exhibition. Most of the artists are very well known local artists. This is a last chance to see the Historic Downtown Miami Macy's building empty before tenants move in.
To purchase Miami Marine Stadium seat artworks, contact Angela Shlyakhov at 305-915-2788.
December 4th 6pm till 11pm
December 5th 3pm -10pm
December 6th 3pm -10pm
December 7th 3pm – 10pm
December 8th 3pm- 10pm
December 9th 3pm – 10pm