Just Breathe, A Solo Exhibition by Elizabeth Sutton Opening Night
Monday, 12/03/2019 – 01/24/2019 07:30 pm – 09:30 pm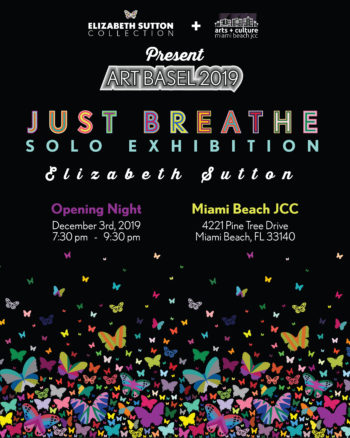 Miami Beach JCC
4221 Pine Tree Drive,
Miami Beach, Florida 33140
Website
Cost: Free
Meet featured artist Elizabeth Sutton and see her solo show, Just Breathe, in the Schwartz-Jacobs Family Gallery at the Miami Beach JCC. The preview will be on Tuesday, December 3 from 7:30 PM – 9:30 PM. The exhibition will be on display from December 3, 2019 through January 24, 2020.
Many works of art betray the hand of the artist. Elizabeth Sutton's work, however, tells of the mind of the artist. Her compositional signature is a strong undercurrent of mathematical proportions and algorithmic color placement. Nothing is accidental; everything is intuitive. And with a nod to pop and a dash of kitsch, Sutton creates compositions that are focused on enlivening spaces and uplifting spirits. Sutton believes that her compositions find engaging the viewer with organizational complexity while simultaneously entertaining with whimsy.
Elizabeth Sutton is a millennial "mom-preneur" and visual artist who has taken the nouveau arts scene by storm. In 2016, Elizabeth was selected to participate in the NYDesigns incubator program, exhibited at both the A­ffordable Art Fair & Hamptons Designer Showhouse, and was featured by Bravo's "Million Dollar Listing," as well as The New York Post. In 2018, Sutton partnered with Joe & The Juice in locations across New York City, in support of The Art of Elysium. Elizabeth's tile collection for Tilebar is a two-time award collection, from Architectural Digest and HD Expo. Elizabeth recently released her first leather collection, announced exclusive partnerships with the luxury resort, Eden Rock – St Barths and Janovic, the NYC-based Paint & Decorating Center along with launching her lifestyle blog.