Wynwood Comedy Throwdown
Tuesday, 09/17/2019 – 08:00 pm – 10:30 pm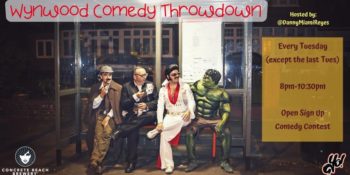 Concrete Beach Brewery
325 NW 24th St,
Miami, Florida 33127
Eventbrite
Cost: Free
The home of the longest-running comedy night in Wynwood is adding even more comedy for you!
With the continued success of Last Call Comedy Show at Concrete Beach Brewery Yo Miami has added an open mic all the other Tuesdays of the month, making it easy for you to get over those mid-week blues every week.
To add a little spice, we're making a contest out of it: at the end of the show, the audience will vote on their favorite comic of the night, who'll win a $25 bar tab to celebrate their hard-earned victory.
Perfect opportunity to see established comics working out their material, fresh faces, and first timers, you never quite know what you'll see (kinda like a box of chocolates)