Andie and AJ Swap N' Shop
Thursday, 09/12/2019 – 09/12/2019 07:00 pm – 09:00 pm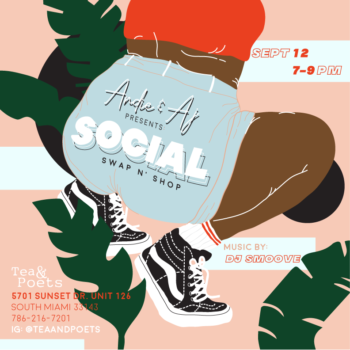 Tea & Poets
5701 Sunset Dr #126,
South Miami, Florida 33143
Website
Cost: FREE
We believe that the fashion industry has the potential to be a huge catalyst for change and Andie & AJ events are designed for creative social impact. This time around, A & A presents S O C I A L, a curated experience of swapping, shopping and more! Think of us as your very own pop-up thrift shop ~ anyone can either donate or swap garments from their closet with items from our pop-up and donations are recycled through local textile recycling or swapped through our shop.
So how can you participate?
1. Follow Andie & AJ on Instagram or Facebook to stay posted
2. Fill a bag with all that like-new and gently worn clothing taking up space in your closet
3. Come swap n' shop with us on September 12th at Tea & Poets from 7-9 PM!