The Sara Gala
Thursday, October 12, 7pm – 11pm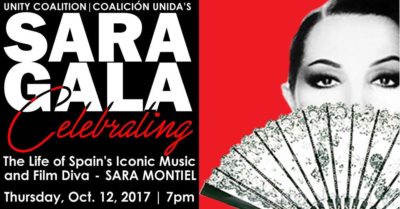 Coral Gables Woman's Club
1001 E Ponce de Leon Blvd
Coral Gables, Florida 33134
TICKETS: $60 now, regular $80.
Buy tickets online
UC|CU's SARA GALA is Oct. 12, 2017…A magical night of Music, Dance, Art, Film, Food, Drinks & Fabulousness…At the historic Coral Gables Woman's Club, as we Celebrate the Life of Spain's 1950's Iconic Diva of Music, Film and Stage and LGBT Ally, SARA MONTIEL
Sara Montiel (1928-2013) is widely considered one of Spain's greatest female film stars of the 20th century: but it is perhaps more for what she managed, with huge skill, to come to symbolize than for her artistic output that she will be remembered long-term.
She was the first Spanish actress to conquer Hollywood in the 1950s, acting alongside Burt Lancaster and Gary Cooper – and her beauty helped her gain a trail of lovers and husbands that ranged from Hemingway (who taught her to smoke cigars) to the film director Anthony Mann.
Sara Montiel is revered as an LGBT Icon, for her beauty, fierceness & relentless pursuit of gender equality.
Enjoy divine performances of Montiel's biggest hits by the MIAMI GAY MEN'S CHORUS, cameos by VINNA ROUGE, RichArt, Flamenco Dancing, excerpts from author JAVIER MONTILLA's Ultimos Dias con Sara Montiel, Imagery by famed photographer ALBERTO RIVAS…
Open Bar, Gastronomic Samplings, Glamour y mas…
Benefiting UNITY COALITION|COALICIÓN UNIDA, the First & Only organization for the South Florida Latinx|Hispanic|LGBT community – advancing Equality & Fairness – through Education, Leadership and Awareness, since 2002. unitycoalition.org