2016 Common Field Convening Miami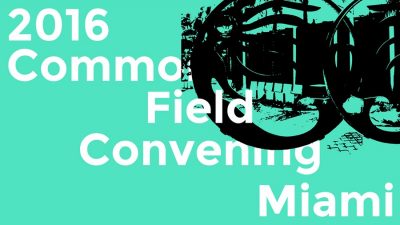 Little Haiti Cultural Center
212 NE 59th Terrace
Miami, FL 33137
Website
The Common Field Convening is an itinerant annual gathering created by and for the field of visual artists' organizations. These organizations support artists and foster experimental projects that are responsive to and embedded in the places and communities in which they live and work.
This years convening in Miami FL investigates the contexts and conditions of experimental arts organizing in a time of accelerated capitalism. The convening is organized in collaborating partnership by Miami's BFI (Bas Fisher Invitational), Cannonball, Dimensions Variable, and Locust Projects, an alliance of local Miami organizers and a national Common Field team.
The 2016 program includes panels, breakouts, data blitzes, workshops, events, tours, and celebrations throughout the city. This year's program includes a variety of formats for intimate conversation, peer-to-peer exchange and cross-pollination around both practical and value driven issues. It also provides forums for Common Field members to connect and strategize trajectories for the year ahead.
The 2016 Convening brings together 350+ local and national organizers to explore arts organizing in a time of accelerated capitalism.
While well-known for the hyperluxury commercial market fueled by Art Basel, Miami is also home to a robust network of artist and cultural organizations devoted to critical practice and experimental production. The 2016 Common Field Convening will connect national arts organizers and locals from Miami's artist-run spaces and centers, alternative spaces, and independent artists' projects at the Little Haiti Cultural Center.
This year's Convening focuses on how artist-run and artist-centered organizations survive and sustain in our current times, which requires new practices for adjusting to rapid shifts in technological, environmental, economic, social and political forces. The four day program includes panels, breakout sessions, workshops, tours and local arts events.
Thursday's Opening Ceremony includes a performance by Dream Defenders and a keynote by Edouard Duval-Carrié. Sessions on Friday and Saturday are anchored by 4 central panels each followed by a series of breakouts and talks featuring a total of 120 presenters sharing ideas and expertise in an additonal 20 breakouts, 4 lightning talks and 4 workshops. Central themes include Art Making Under Accelerated Capitalism, Transitions: Evolving Organization Models, Gentrification + Sustaining Neighborhoods, and Critical Programs/Critical Ideas.
Evening festivities and events at Fountainhead and Diaspora Vibe/DVCAI After Party bring the best of the Miami scene forward. Commissioned projects, screenings and performances feature local artists and collectives including Borscht Corp, Books Are Nice, Loni Johnson + Hattie Mae Williams, DJ Mack of Rhythm Foundation, Jillian Mayer, Miami Music Club With Ana Mendez, and Serge Toussaint.
Tickets include breakfast, lunch and Saturday dinner highlighting Miami's rich culinary heritage.
Common Field is a national network of artists organizations that launched officially at the Fall 2015 Common Field Convening (aka Hand-in-Glove) in Minneapolis, Minnesota. Four hundred and thirty self-nominating members from 40 states include artist-run and non-profit art spaces, publications, digital exhibition venues, festivals, residencies, collectives and collaborative organizers, curators, artists, and administrators working in a variety of mediums. Common Field creates visibility and viability for the field of artist organizations through connection, advocacy, research, and resources. The Convening provides an important outlet for national members to collectively plot futures for Common Field — brainstorming research trajectories, resource exchange channels, and advocacy strategies for the second official year of the organization.
Lead Miami partners include Bas Fisher Invitational (BFI), a 501c3 artist run space dedicated to creativity, experimentation, and discourse in contemporary art; Cannonball, a non-profit, 501c3, arts organization dedicated to supporting artists, innovative forms of cultural production, and education to advance critical discourse and understanding of contemporary art practice; Dimensions Variable (DV) an exhibition space based in Miami and committed to the presentation and support of contemporary art; and Locust Projects is not for profit exhibition space dedicated to providing contemporary visual artists the freedom to experiment with new ideas without the pressures of gallery sales or limitations of conventional exhibition spaces. The convening has inspired the growing Miami Arts Alliance, a group of 60+ local organizations who have provided insight and support for the initiative.
The 2016 Common Field Convening is generously supported by The Andy Warhol Foundation for the Visual Arts, The Knight Foundation, The Hemera Foundation, The Miami-Dade County Department of Cultural Affairs and Common Field Members.
For press inquiries, email convening@commonfield.org