PRESS RELEASE
Radiotopia Launches #PodQuest, the Search For Podcasting's Next Breakout Hit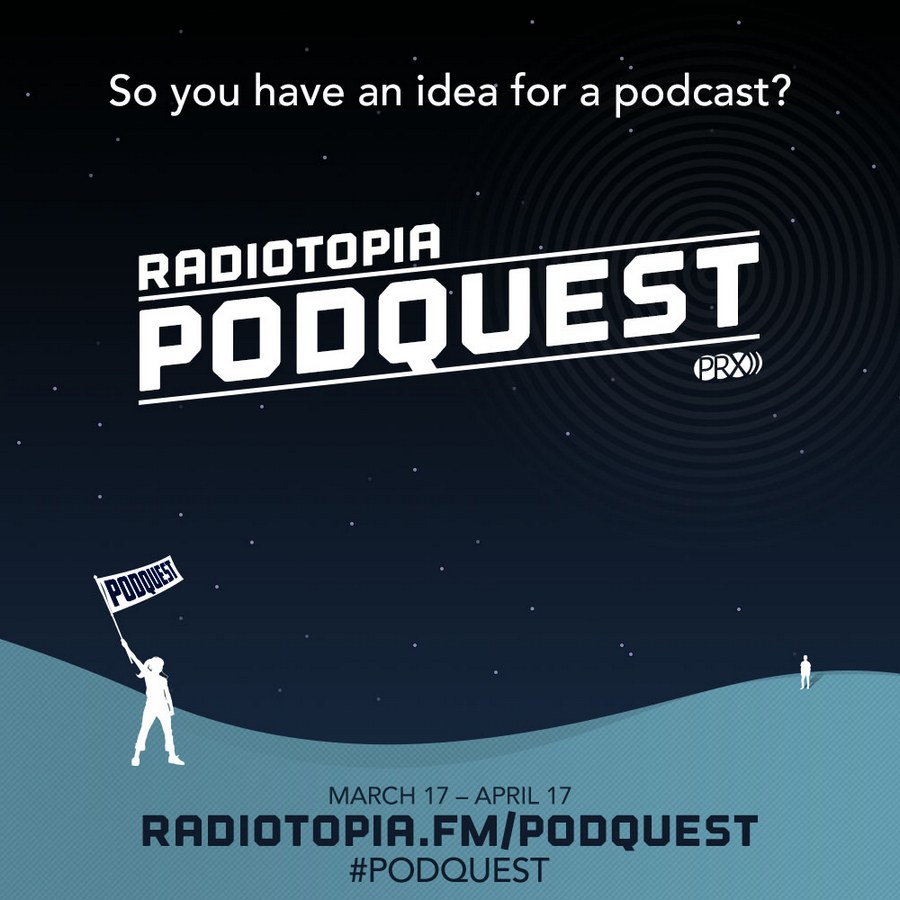 With $10,000 and four months of mentorship, three finalists will vie for a spot in Radiotopia's network of acclaimed story-driven podcasts.
Podcast show submissions can be sent via radiotopia.fm/podquest until the April 17, 2016 deadline.
Aiming to discover diverse new voices, introduce audiences to fresh talent, and explore what it takes to bring a podcast to life, the Radiotopia podcast network today launched Podquest, a competition that will give three finalists financial and professional support to develop a podcast for the story-driven network of acclaimed shows such as 99% Invisible, The Memory Palace, Criminal, Song Exploder, and The Mortified Podcast.
Podquest kicks off with a one-month open submission period, during which anyone can submit an original idea for a podcast. Ten semi-finalists will then be interviewed by the Podquest selection team, with three finalists receiving $10,000 (each) to produce pilot episodes for their proposed shows. Over the course of four months, these finalists will receive hands-on support for creating a sustainable podcast, as well as editorial and technical input from Radiotopia's team of seasoned podcasting experts. At the end of the production phase, one winner will be selected to develop their idea into a full series for inclusion in Radiotopia in 2017. Throughout the Podquest process, 99 Radiotopia supporters will participate by weighing in on submissions and offering feedback on pilot episodes-in-progress.
To help in the development of their podcasting endeavors, all ten of the semi-finalists will also receive an array of professional support including $300, office hours with Radiotopia producers, free Hindenburg radio editing software, a free two-year PRX membership, and a year-long membership with the media talent network AIR.
"Radiotopia's mission is to provide a powerful, supportive platform for podcasting's boldest voices," said Julie Shapiro, Executive Producer of Radiotopia. "Podquest will connect us with ambitious, emerging producers and bring their creative talents to audiences hungry for Radiotopia-style podcasts: shows that consistently showcase innovative, provocative and carefully crafted storytelling."
Launched in 2014 by PRX, the award-winning public media company, Radiotopia has quickly become the leader in today's audio storytelling renaissance and grown its roster of hit shows from seven to thirteen. In 2015, Radiotopia podcasts were downloaded more than 10 million times per month, nearly doubling their 5.7 million monthly downloads from 2014.
Podquest is one of a series of new initiatives funded by a $1 million grant from the John S. and James L. Knight Foundation that Radiotopia received in May 2015. Podquest is additionally supported by Hindenburg Systems and AIR.
For more information and to submit your idea, visit radiotopia.fm/podquest.
About PRX
PRX is shaping the future of public media content, talent and technology. PRX is a leading creator and distributor, connecting audio producers with their most engaged, supportive audiences across broadcast, web and mobile. A fierce champion of new voices, new formats, and new business models, PRX advocates for the entrepreneurial producer. PRX is an award-winning media company, reaching millions of weekly listeners worldwide. For over a dozen years, PRX has operated public radio's largest distribution marketplace, offering thousands of audio shows including This American Life, The Moth Radio Hour and Reveal. Follow us on Twitter at @prx.