Eve of Midas Golden New Year 3rd Annual NYE Party
Thursday December 31st from 8:30PM to 1:00AM
The Ritz-Carlton, South Beach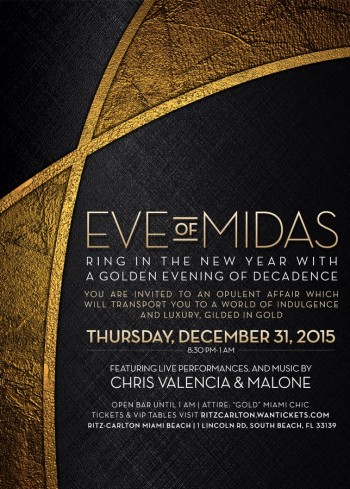 1 Lincoln Road
Miami Beach, Florida 33139.
$200.00USD per person
Buy tickets online
The "Eve of Midas" a Golden New Year's Affair will take place end of this month, at The Ritz-Carlton, South Beach. The annual event previously known as "Blanc", (a white party), has built a loyal following for the last two years. On December 31, 2015 faithful attendees and new ones alike, are invited to experience the new incarnation: The "Eve of Midas".
Knowing well there are many options in South Florida to celebrate the New Year, The Ritz –Carlton, South Beach will be the only option for those seeking an elegant affair offering an open bar including champagne, dancing, specialty acts, music by DJ Chris Valencia and Malone, and an array of performances throughout the night.
The ideal location is the perfect place to ring in the New Year, as the iconic hotel which is located on South Beach, lies on Miami's most famous beach. The resort is located just steps from Ocean Drive, and Lincoln Road. Guests are invited to experience a unique evening created by some of the most well-known names in Miami nightlife and hospitality. Surrounded by a shimmery atmosphere, party guests will get to take in visuals and sounds that are the perfect balance of opulence and sophistication. The venue will appear to have been brushed by gold, for the night.
In addition to the all-inclusive package, event-goers will walk the "gold carpet" at the luxury location, unlike any other. Known as a venue that truly caters to the most discerning guests, this "golden affair" will take place on a property used to being a temporary home away from home to dignitaries and celebrities. For one evening, it will welcome hundreds to celebrate the New Year with an unobstructed view of the Atlantic Ocean.
Produced by AMPM Presents, the team behind this special event carefully selected the entertainment, to transport guests for the evening. From the glittering lights, to the glistening pool which will serve as one of the many "stages", guests are in for a tantalizing experience. Greek mythology served as inspiration for this one-of-a-kind New Year's party. But entertainment, inspired by many eras, will come to life in the color synonymous with royalty, mysticism, magic, and good fortune. 2016 will arrive at The Ritz-Carlton, South Beach, all dressed up in gold.
The attire suggestion is "Miami Gold Chic" which will no doubt inspire fashionistas to don their very best for that special selfie at 12AM!
*Guests are reminded to please drink responsibly.*
Creativas Group Inc. provides public relations and marketing counsel to national brands, recognized special events and leading non-profit organizations. Contact Creativas Group at: info@creativasgroup.com . Photographs and interviews are available by request. For more information: www.creativasgroup.com. Follow us on social media @CreativasGroup!