Spectrum Miami Life is ArtPlay Artist Reception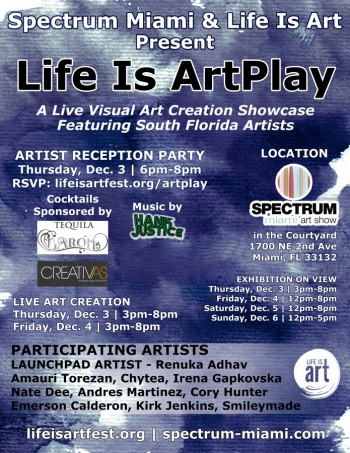 Thursday, Dec. 3 | 6pm-8pm
Spectrum Miami Tent Courtyard
1700 NE 2nd Ave. at NE 17th St.
Miami, FL 33132
RSVP Recommended
* Due to the high number of RSVPs, we recommend prompt arrival at 6:00pm.
* Space is limited, admittance and cocktail tasting will be first come, first served, with preference given to those who have RSVPed.
* Please consider making a donation to support local artists.
* RSVP does not include admission to Spectrum. To purchase Spectrum Tickets, Click Here.
A Live Visual Art Creation Showcase featuring South Florida Artists
Cocktails Sponsored by Baron Tequila and Creativas Group
Music by DJ Hank Justice
Watch art come alive during Artplay, as Life Is Art's specially chosen group of artists create their next masterpiece right in front of the crowds at Spectrum Miami. Inspired by Spectrum's [EMERGENCE] theme, the artists will offer a glimpse into how each piece of art uniquely emerges, giving light to the artist's creativity and medium.
PARTICIPATING ARTISTS
LAUNCHPAD ARTIST – Renuka Adhav
Amauri Torezan, Chytea, Irena Gapkovska
Nate Dee, Andres Martinez, Cory Hunter
Emerson Calderon, Kirk Jenkins, Smileymade
LIVE ART CREATION
Thursday, Dec. 3 | 3pm-8pm
Friday, Dec. 4 | 3pm-8pm
EXHIBITION ON VIEW
Thursday, Dec. 3 | 3pm-8pm
Friday, Dec. 4 | 12pm-8pm
Saturday, Dec. 5 | 12pm-8pm
Sunday, Dec. 6 | 12pm-5pm
Spectrum Miami is a Life Is Art supporter.