PRESS RELEASE
EMORY Vodka Launches Subliminal Guerilla Marketing Campaign during Art Basel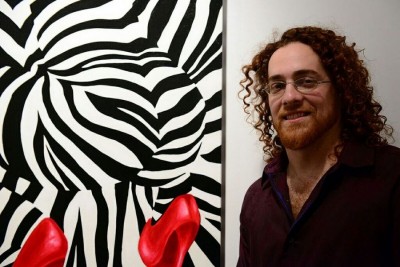 Following the memorable debut of Zebra Love by Blake Emory at Spectrum Miami during last year's Art Basel, Blue Vase Marketing, a full service agency specializing in direct response, talent acquisition and strategic brand development, will be capitalizing on the unique brand marketing platform that Art Basel and Miami Art Week provides, as part of the company's latest product launch aimed at drawing the attention of this highly sought after and captive audience.
EMORY Vodka – a new ultra-premium line of 100% corn-based, Naturally Gluten Free vodka with a unique design concept inspired by the artist in "Optic Modernism" Blake Emory from New York – will mount an aggressive guerilla marketing campaign during the art world's most prestigious week. Following a highly successful summer-long trade and industry launch, resulting in the product's off-premise growth in retail outlets across select markets, EMORY Vodka is targeting the week of Art Basel in South Florida as a platform to initiate awareness on-premise – within select hotels, bars and restaurants hosting an international fanfare of art enthusiasts from across the globe.
"Zebra Love by Blake Emory received tremendous brand recognition during last year's Art Basel," says Michael Alden, CEO and President of Blue Vase Marketing. "Miami was the first market to catch a glimpse of EMORY Vodka in December and over the last twelve months the brand has grown to become an industry pioneer in product design among a colossal premium beverage market," Alden adds. "Our limited edition line of naturally Gluten Free vodka is now rapidly expanding across major states throughout the southern and eastern seaboard. Miami is an ideal launch market now on our radar and we aim to capitalize on the popularity of Art Basel with a subtle yet precision-based product placement tactic. The Zebra Love oil on canvas brand extension transformed for the EMORY Vodka product line will resonate extremely well with the pop art enthusiast and among industry tastemakers and social influencers whom regularly attend this coveted week of events."
Commencing for the week of Art Basel and throughout the high season in Miami, EMORY Vodka will be strategically poured at the most buzzworthy locations and venues, starting at the heart of this year's mountain of Art Week events. Among them will be a presence at Metropolitan by COMO, Miami Beach – the city's number hotel on Trip Advisor – at which EMORY Vodka will be served behind the hotel's popular Traymore Restaurant and Bar. International press is buzzing about the newest Barcelona-inspired Mediterranean hotspot, KLIMA Restaurant and Bar, that will also include EMORY Vodka on its cocktail menu each night and for the grand opening of its second floor club and lounge "K Club" that will be unveiled on December 4th. A number of local media partners will also be collaborating with the vodka line for a series of private and exclusive VIP events during Art Basel, sponsored by EMORY Vodka.
EMORY Vodka is one of the few to enter the ultra-premium beverage market as a one hundred percent corn based product that is naturally gluten free while being six times distilled during the fermentation process. EMORY Vodka has been positioned as one of the first artist-inspired premium vodka lines introduced to the beverage industry during this year's Wine and Spirits Wholesalers of America Annual Convention in Orlando in April.
New York based artist Blake Emory, one of today's most innovative pioneers in the Optic Modernism movement, has developed a unique extension of his existing Zebra Love oil on canvas signature collection for the brand design of EMORY Vodka. Michael Alden, CEO and President of Blue Vase Marketing, in partnership with Emory, has translated the Zebra Love concept on to frosted glass and will be releasing the limited edition premium vodka supported by one of the country's leading strategic marketing firms for the beverage industry, Pearson & Pearson. Imported and bottled by the newly formed Zebra Love, LLC parent company, Emory's Zebra Love design is embossed on to a signature artisan bottle, complete with Emory's trademark red stiletto. Emory Vodka marks the first brand extension in the Zebra Love series and features Emory's "Shauna1" design for the inaugural product adaptation. A portion of proceeds from the sales of Emory Vodka is donated to the ASPCA to help prevent cruelty to animals.
Zebra Love is the latest anthology by the New York artist Blake Emory, whose collective series of theoretical works is capturing the attention of not only the fine art world, but also the country's leading brand visionaries within the marketing community.
Emory's Zebra Love series represents the artist's inspired discovery of what he refers to as "nature's grand design" that encapsulates an artistic expression of retro fashion with love, passion and "divine geometry" from the animal kingdom. Zebra Love portrays an underlying theme based on a fluid visual depiction of Zebra stripes that are carved to form the foundation of a multi-dimensional approach to acrylic on canvas. Using an individual female model and form as the muse for every piece of work, the curvaceous and nude silhouette of each chosen woman is juxtaposed against the Zebra design and blended within the center of the frame to convey a layered optical illusion at first glance. Emory describes his final touch as a "passionate step in to the world of love needed to liberate us from the human construct," illustrated by a retro-style red stiletto worn on one foot – giving the black and white design its signature dash of vibrant color, fashionable overture and overtly sexual connotation.
Priced at $29.99 for 750ml, EMORY Vodka is targeting high volume cities around the country known for a trendsetting consumer audience, including Atlanta, Chicago, New York, Los Angeles and Miami.
For further information on EMORY Vodka, visit www.emoryvodka.com