Association of Fundraising Professionals National Philanthropy Day Awards and Luncheon 30th Anniversary
Thursday, November 12, 11:00am to 1:30pm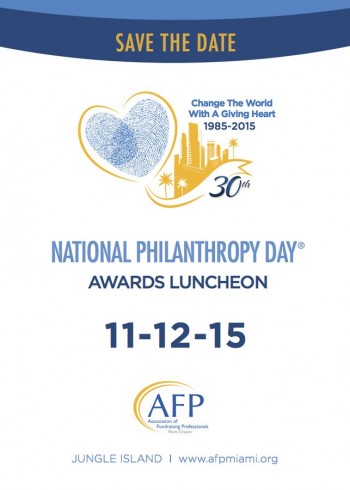 11:00 a.m. – Registration
11:45 a.m. – Seating
Program begins promptly at Noon
Jungle Island
1111 Parrot Jungle Trail
Miami Florida 33132
Online Registration
Presenting Sponsor $15,000
Supporting Sponsor $10,000
Platinum Sponsor $5000
Gold Sponsor $2500
Silver Sponsor $1250
Bronze $750
Individual $75
The Association of Fundraising Professionals Miami In Partnership with Greater Miami Chamber of Commerce, The Miami Foundation and Partnership for Philanthropic Planning of Miami-Dade Cordially invite you to attend The 30th Annual National Philanthropy Day Awards Luncheon Presented by Florida International University
The Association of Fundraising Professionals – AFP Miami continues its tradition of honoring the local philanthropic community at the annual National Philanthropy Day Awards luncheon. In 1985, AFP Miami initiated one of the first National Philanthropy Day awards events. Today, National Philanthropy Day is celebrated across North America and around the world. This year is our 30th anniversary and we expect over 600 people including high-net-wealth donors, key corporate leadership and other non-profit stakeholders from our community. The day will be specially designed to recognize and honor the great contributions individuals active in Miami's philanthropic community have made to our lives, our local community and our world. To celebrate our 30th anniversary, the program will also feature a special look back in time at our city's philanthropic milestones.
2015 Honorees:
Lifetime Achievement Honoree: Paul and Swanee DiMare
Outstanding Philanthropist: Dr. & Mrs. Herbert Wertheim
Outstanding Volunteer: Lewis "S" Mike Eidson, Ann Machado
Julia Tuttle Award for Community Involvement and Corporate Citizenship: Miami Marlins
Outstanding Grant Maker: United Way of Miami-Dade
Champion of Philanthropy: Alberto Ibarguen, Knight Foundation
Honoring those who make a difference, Philanthropy and volunteerism are selfless acts of generosity and kindness. National Philanthropy Day is designed to honor those who improve our community and our lives with their efforts in hundreds of cities across America. The event is organized by the Association of Fundraising Professionals Miami Chapter with the generous support of our partners.
National Philanthropy Day Committee
Barbara Norland, NPD Co-Chair
Amy Powers , NPD Co-Chair
Richard Alan Lehrman, Chapter President