The 2016 South Florida Firefighter's Calender Unveiling Weekend
Friday, August 28th, 2015, 9:30PM – 2:00AM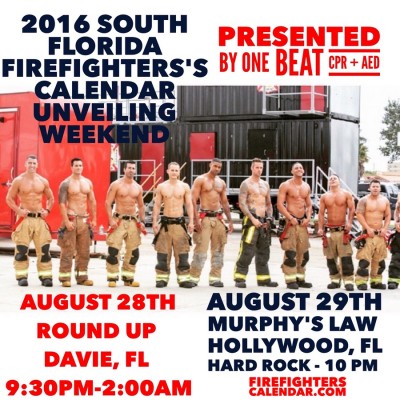 Round Up Nightclub
9020 W State Rd 84
Davie, FL 33324
Come meet the Men of the 2016 South Florida Firefighter's Calendar presented by One Beat CPR + AED at the Unveiling Weekend on August 28th & 29th
Calendars Raise Awareness for Here's Help, A Safe Haven for Newborns and Friends Forever Rescue and the Jackson Memorial Burn Center
South Florida Firefighter hotties will be "Burning Up" for your love and community support at the 2016 edition unveiling of the South Florida Firefighters Calendar presented by One Beat CPR + AED. Ladies drink for free from 9pm to 3am, and Saturday, August 29th, 2015 at Murphy's Law Irish Pub at Seminole Hard Rock Hotel & Casino at 10:00 PM. The Calendar raises awareness for Here's Help, A Safe Haven for Newborns, Friends Forever Pet Rescue, and University of Miami Jackson Memorial Burn Center.
For the past 24 years, the South Florida Firefighters Calendar has been one of America's top firefighter calendars. But more importantly, it has raised thousands of dollars for many of South Florida's charitable causes.
As the calendar continues to grow, there are opportunities which require greater energy and effort. As a result, we are pleased to announce reunification with our presenting sponsor from prior years, One Beat CPR + AED, and a new operational plan effective August 26th, 2015. This new focus will allow the Calendar to achieve greater heights and have a bigger impact on our local communities.
For over 15 years, One Beat CPR + AED has been a strong voice in raising awareness of Sudden Cardiac Arrest, CPR, and Public defibrillator programs in the tri-county area. They offer emergency resuscitative care certification training and are authorized by the American Heart Association (AHA) and American Safety Health Institute (ASHI).
The South Florida Firefighters Calendar will continue to advocate and raise funds for the charities it's been affiliated with; however, we are excited to announce we have added CPR and AED awareness to our core initiatives. We'd like to thank our sponsors, participants, fans, and volunteers for your faithful support and commitment over the years and we look forward to sharing the upcoming changes with you
About One Beat CPR + AED
One Beat CPR + AED is South Florida's leading American Heart Association (AHA) and American Safety Health Institute (ASHI) authorized training facility. Founded by Lon Rosen, a 14-year Key Biscayne Fire Department veteran, One Beat's training team consists of firefighters, paramedics, and police officers – people dedicated to saving lives every day. They deliver real life experience to make CPR training accessible, fun, and informative for families, schools, and businesses. The company is also an exclusive Philips partner offering Automated External Defibrillators (AEDs) and accessories. For more information, please call (954) 321-5305 or visit http://www.onebeatcpr.com.