Life Is Art, Soul Of Miami, Buskerfest and the Opa-locka CDC present a very special River Of Art and Taste of Opa-locka
Tuesday, June 23, 6:00pm-10:00pm
The ARC – Arts & Recreation Center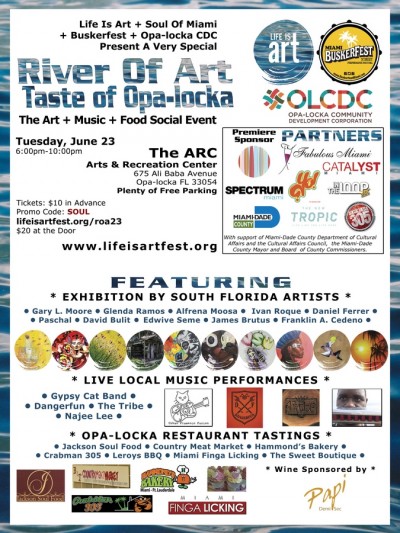 675 Ali Baba Avenue
Opa-locka, FL 33054
$10 with Advance Purchase, Promo Code: SOUL
Register Here
$20 at the Door
Proceeds go to support the local arts.
Free Parking
Hosted at the brand new Opa-locka Arts and Recreation Center, this is our biggest River Of Art, yet! Featuring ten amazing local artists, a showcase of hot local bands, and tastings by several Opa-locka restaurants, we guarantee this will be worth the drive! Includes complimentary tastings from Opa-locka restaurants and wine sponsored by Papi Demi Sec. Free parking.
Featuring
Visual Artists: Ivan Roque, Franklin A. Cedeno, Alfrena Moosa, Gary L. Moore, James Brutus, Paschal, Edwive Seme, Daniel Ferrer, Glenda Ramos, David Bulit
Live Music and Performance Showcase: Gypsy Cat Band, Dangerfun, The Tribe, Najee Lee
Restaurant Tastings: Jackson Soul Food, Country Meat Market, Hammond's Bakery, Crabman 305, Leroys BBQ, Miami Finga Licking, The Sweet Boutique and More
Drink Tastings: Papi Demi Sec
Bringing People and Art Together
The River Of Art is an exciting evening of business networking featuring an interesting show, excellent music, delicious cuisine tastings and refreshing beverages. The River Of Art is a monthly gathering place of Miami's good people, executives, industrialists, innovators, creators, entrepreneurs, changemakers, activists, and artists. Attendees may enjoy a complimentary welcome beer and tastings of the menu included with your entry.
Hashtag: #RiverOfArt
Premiere Sponsor: Spectrum Miami
Partners: Fabulous Miami – YOMiami – SocialMedia305 – Catalyst Miami – InTheLoop305 – Arts & Business Council – Bakehouse Art Complex – Association of Fundraising Professionals – Social Media Club South Florida – The New Tropic
With support of the Miami-Dade County Department of Cultural Affairs and the Cultural Affairs Council, the Miami-Dade County Mayor and Board of County Commissioners.