Soul Of Miami presents River Of Art #22 Business + Arts Social Event
Tuesday, May 26, 6:30pm-9:30pm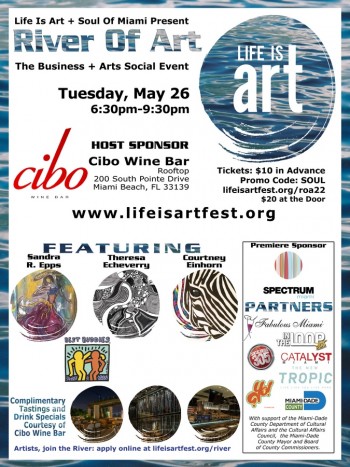 Cibo Wine Bar Rooftop
200 South Pointe Dr
Miami Beach, FL 33139
Tickets: $10 with Advance Purchase, Promo Code: SOUL
$20 at the door.
Buy Advance Tickets Now Advance Ticket sales end at 2:00pm on May 26th
Includes complimentary tastings and drink specials courtesy of Cibo Wine Bar.
All ticket proceeds support Life Is Art's mission.
Hashtag: #RiverOfArt
Share with your Facebook friends
Bringing People and Art Together
Life Is Art & Soul Of Miami present the River Of Art with an exciting evening of business networking featuring an interesting show, excellent music, delicious cuisine tastings and refreshing beverages. The River Of Art is a monthly gathering place of Miami's good people, executives, industrialists, innovators, creators, entrepreneurs, changemakers, activists, and artists. Attendees enjoy complimentary tastings of Cibo Chef's Selection of Signature: Pizzas, Polenta Fries, Spiducci, Bruschetta, Arancini, Polpettine, and drink specials with entry.
Featuring
Visual Artists: Sandra R. Epps, Theresa Echeverry, Courtney Einhorn
Charities: Best Buddies
Each month, Life Is Art brings the community together at our River Of Art pop-up art-in-public-places show to socialize through the power of the arts with the goal of exposing new artists, introducing new people to art appreciation, providing an inspiring space to make new connections, showcasing local businesses and charities, while providing a fun break during the work week.
Art is an inspiring talking point, discussing it is a great way to break the ice. Culture is one of the primary elements that build community and hosting a business networker within an art show is a unique way to encourage socializing, so attendees are encouraged to bring plenty of business cards and an open mind.
Premiere Sponsor: Spectrum Miami
Partners: Fabulous Miami – YOMiami – SocialMedia305 – Catalyst Miami – InTheLoop305 – Arts & Business Council – Bakehouse Art Complex – Association of Fundraising Professionals – Social Media Club South Florida – The New Tropic
With support of the Miami-Dade County Department of Cultural Affairs and the Cultural Affairs Council, the Miami-Dade County Mayor and Board of County Commissioners.