A History of Little Havana – Book Signing with Co-Authors Guillermo Grenier and Corinna Moebius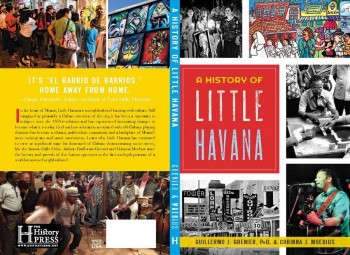 Friday, 05/15/2015 – 06:30 pm – 09:00 pm
CubaOcho Art & Research Center
1465 SW 8th Street, Suite 106,
Miami, Florida 33135
Facebook Link
Cost: Free
Meet the authors of the recently released "A History of Little Havana," a book which focuses on the development of Little Havana as a Cuban enclave in the 1960s and its transformation into the diverse Latino neighborhood it is today. The book also delves into the political role of the neighborhood as a stage for protests and debates related to Cuba. Co-authors Dr. Guillermo Grenier and Corinna Moebius will read selections from the book and sign copies at CubaOcho Art & Research Center, which is mentioned in the book along with many other familiar landmarks. (Live music will take place later on in the evening, and the center has a full bar with a wide selection of drinks including many varieties of rum.)
Each chapter of the book focuses on a different decade, with vignettes on particular places (Cuban Memorial Park, Flagler Street, Orange Bowl, Tent City), traditions and events (baseball, cafecitos, Calle Ocho Festival, La Griteria, cigar manufacturing), arts (murals, hip-hop, dance) and people/ways of life (Central Americans, Afro-Cuban spiritual traditions, the mounted patrol, vianderos).
Copies of the book will be available for sale for $17 (cash or credit card, but cash is preferred because it will take less time).
ABOUT DR. GUILLERMO GRENIER: Grenier is professor of sociology and graduate program director in the department of Global and Sociocultural Studies at Florida International University. Born in Havana, Cuba, Dr. Grenier is one of the founders of the Miami School of social analysis and has authored or co-authored six books and dozens of articles on labor, migration, immigrant incorporation and Cuban-American ideological profiles, particularly in the Greater Miami area.
ABOUT CORINNA MOEBIUS: Moebius is a cultural anthropologist earning her PhD at Florida International University. Moebius lives in Little Havana and leads walking tours of the neighborhood (www.littlehavanatours.com). She is former director of Viernes Culturales / Cultural Fridays, the neighborhood's monthly arts festival.