PRESS RELEASE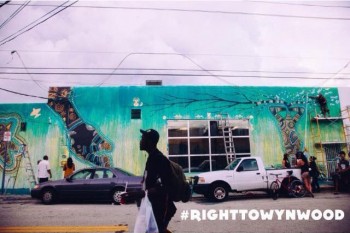 MIAMI, FL – Nov. 3rd, 2014 – As part of the director's collective effort to continue shedding light on the history behind Miami's up-and-coming arts district, short film Right to Wynwood will now be available for online streaming to the general public. Winner for 'Best Documentary' at the 2013 Miami Short Film Festival, Right to Wynwood explores the causes and effects of gentrification, documenting how a Puerto Rican neighborhood became purposely unaffordable for its low-income residents and morphed into profitable opportunities of redevelopment for the money hungry.
After a series of interviews with developers, gallerists, artists, Puerto Rican residents and community leaders, producer Camila Álvarez and photographer Natalie Edgar carefully observed and documented the rapidly changing patterns of the community in Wynwood and saw the need to tell the story behind the so-called new Arts District in Miami, FL.
Although both Álvarez and Edgar are keen advocates of the opportunities that Wynwood brings to artists, they feel that creating awareness of how gentrification in Wynwood was developer–led instead of it being artist-led, as it happened in places like Soho in New York, or in Berlin, was necessary.
Even though street art started appearing in the neighborhood organically, when local art collective Primary Flight saw the opportunity to make Wynwood their playground, it soon became a marketing tool, when their efforts were co-opted by developers who realized that "including culture and arts in change was the best way to get the most bang for your buck," as stated by David Lombardi, one of the first developers to start buying properties in the area, said Camila Álvarez, producer and co-director of the film.
The 21-minute documentary can be streamed online at: www.righttowynwood.com
For more information or press inquiries on Right to Wynwood: righttowynwood@gmail.com