Miami Contemporary Dance Company presents Not in my Name and Rooms of Suspicion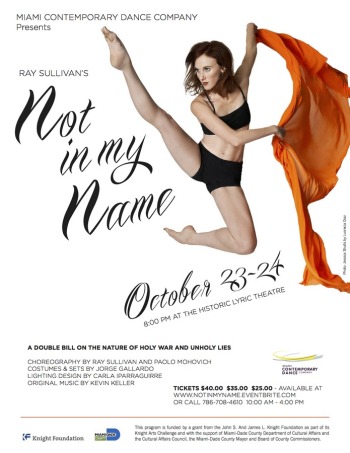 October 23 – 24, 2014, 8:00 pm
The Historic Lyric Theatre
819 Northwest Second Avenue
Miami, Florida 33136
Tickets: $40.00 $35.00 $25.00
Purchase Online
or call 786-708-4610 10:00 am – 4:00 pm
Twitter, Facebook
Join us for peace and truth through dance.
Miami Contemporary Dance Company presents a double bill on the nature of holy war and unholy lies.
In the face of evil and deceit, we choose to fight back through the power of dance.
Join Miami Contemporary Dance Company for a double bill of Not in my Name
and Rooms of Suspicion, two compelling dances that were performed to sold-out houses in Turin, Italy in 2013.
Not in My Name is the creation of MCDC Artistic Director Ray Sullivan, a moving
choreography about holy war and the unconquerable human spirit inspired by months of viewing sacred works of art in Italy. With a new commissioned score by New York composer Kevin Keller.
Rooms of Suspicion is Paolo Mohovich's look at what happens behind closed doors,
a seemingly private world of trickery, cheating, and the power of suggestion,
all tied up in elegant costumes in beautiful movie-like scenes.
Choreography by: Ray Sullivan and Paolo Mohovich
Costumes & Sets by: Jorge Gallardo
Lighting Design: Carla Iparraguirre
Original Music by: Kevin Keller
Don't miss these incredible affirmations of life with Miami's most diverse,
inclusive and inviting arts organization. Two performances only!
Miami Contemporary Dance Company's mission is to create and present high quality contemporary dance for our local audiences and represent Miami nationally and throughout the world. MCDC raises awareness about contemporary dance through professional programming, education, and community outreach.
This program is funded by a grant from the John S. and James L. Knight Foundation as part of its Knight Arts Challenge and with the support of Miami-Dade County Department of Cultural Affairs and the Cultural Affairs Council, the Miami-Dade County Mayor and Board of County Commissioners.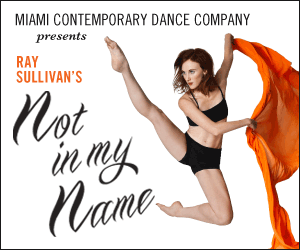 Miami Contemporary Dance Company is a Soul Of Miami sponsor.
Please support the companies that support your favorite website.