Galeria Adelmo's Art Gallery Opening Reception
Friday, June 27th, from 7PM to 10PM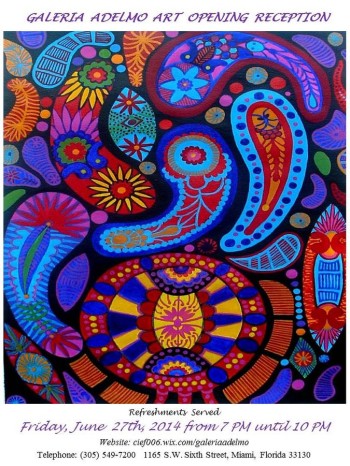 Galeria Adelmo
1165 SW 6th St.
Miami, FL 33135
During the monthly festival event, held on the last Friday of the month, Viernes Culturales / Cultural Fridays, Galeria Adelmo will have an art exhibition featuring local and international artists.
You are invited to join us at Galeria Adelmo's Art Gallery Opening Reception. Enjoy a wonderful evening with your friends while seeing a varied collection of art from local and acclaimed artists. There is a lovely outdoor courtyard in the back, plus other shops, restaurants, theaters and boutiques that are open which you are welcome to visit.
The gallery has a variety of original artists' works from paintings, gift cards, prints, art posters and more! The featured artist is Antonio Del Moral, gallery owner. The painting you are seeing is called "Paisley I"; acrylic on paper.
You are also invited to park just across the street at the Mormon Church parking lot to attend Galeria Adelmo's Art Opening; it's on 6th Street & 12th Avenue.