Record Store Day 2014 + Sweatstock 5
Saturday, April 19, 9:00am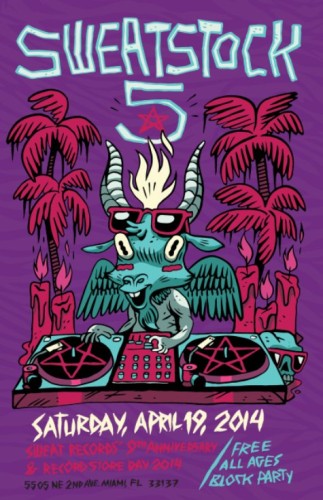 Sweat Records
5505 NE 2nd Ave.
Miami, Florida 33137
Website
Celebrating Nine years of Sweat Records and Record Store Day 2014 with a free pop-up music festival for all of Miami to enjoy!
Doors open at 9am for the Record Store Day exclusives. Anyone waiting in line before 8am will get to "call" one RSD pick to be reserved for them (as our allotments allow).
2pm: Awesome Foundation Main Stage + Audio Junkie Stage at Churchill's kick off!
Awesome Foundation Street Stage:
Aj Davila Y Terror Amor (San Juan, PR)
Sunbears! (Jacksonville)
Telekinetic Walrus
Eons
Nobodies
Eagle Chief
My Deer
Kazoots
The Bows & Ties
with DJs Chalk, Mr. Brown, Action Pat, and Woozles between bands and emcee Daniel Reskin of Casa de Haha!
Audio Junkie Stage Lineup (in random order, set times to follow): Purple, Orbweaver, Plastic Pinks, Shroud Eater, Suede Dudes, Whorish Boorish, Nixa, Pariuh!, Bobby Flan, The Jellyfish Brothers, Los Bastardos Magnificos, Gun Hoes, Alx Czo, Dividends, Haochi Waves, Pocket Of Lollipops, Juju Pie, Casual Creatures, Humanfluidrot, and The Bearings, with DJs Peligro, Jolt Radio and OS DA MU to mix it up!
6pm: When the sun sets the back patio of Churchill's becomes the Borscht Lounge with a loop of the Borscht Film Festival's most visually exciting offerings.
Food trucks: Ms. Cheezious, Los Chamos, Mulberry 1965, Ben & Jerry's (free ice cream!)
Giveaways: Concert tickets courtesy of Live Nation and Grand Central, movie tickets courtesy of Miami Beach Cinematheque, free KIND bars, Other Electricities slipmats, and tooons of RSD swag! Come early for posters, stickers, vinyl, and more.
The Main Stage ends at 11pm but the fun at Churchill's goes late into the night!