Miami New Times Best of Miami(R) Nominations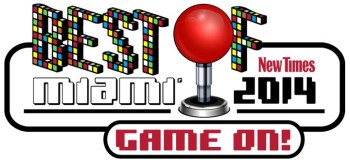 April 10 – April 30, 2014
Nominate Online
More Information
From April 10 to 30, Nominate Your Favorite Places and Things to Do in Miami
New Times' 27th-annual Best of Miami® issue celebrates the best of absolutely everything the area has to offer. Best of Miami® is the most comprehensive guide to the top people, places, goods and services, dining, nightlife, and entertainment found only in this region. With hundreds of pages of information, more than 400 choices, and a readership in the millions, it is the most anticipated issue of the year. Best Of reaches millions of people in the most valued issue of the year.
Each year our Best Of issue has a signature theme. We are proud to announce that in 2014, it's "Game On!" – a throwback to retro gaming and culture.
Nominate the best things to do, see, and eat in Miami by casting your vote. You can suggest your favorites from Thursday, April 10, to Wednesday, April 30. Readers will have the opportunity to vote in scores of categories. On Monday, May 5, voting will open again for its final round, where readers can pick from the selected nominees to be crowned Best of Miami® winners.
Best of Miami® will be published Thursday, June 19, with the full list of Readers' Choice winners, along with editorial picks. It will be available on newsstands throughout the area and online at MiamiNewTimes.com as well as our Best Of mobile app.