VIP Preview of The Bath Club Estates
Tuesday, 12/03/2013, 07:00 pm-09:00 pm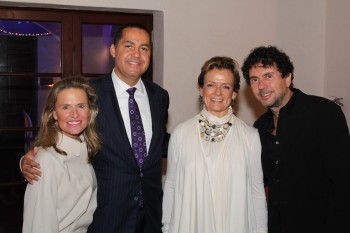 The Bath Club
5937 Collins Ave
Miami, Florida 33140
Visionary developer and U.S. business mogul R. Donahue Peebles hosted an extraordinary preview dinner for The Bath Club Estates last night, the continuation of his successful reincarnation of historic The Bath Club.
Perfectly timed with Art Basel, Peebles unveiled 13 extraordinary designer curated residences during a private viewing to international buyers and the city's top-selling brokers, along with the global stars Peebles' commissioned to envision bespoke ocean homes in the sky.
The limited edition collection of residential masterpieces feature the multi-million-dollar designs of Jennifer Post, Alexandra Champalimaud, Alison Spear, Joao Armentano and Bernardo Fort-Brescia, who shared their consummate creations, giving guests an insider's perspective of their sprawling homes for The Bath Club Estates, including the unique option of having one of the highly-acclaimed interior designers tailor precisely to buyer specifications.
Residences are priced from $8 to $30 million and sales officially launch early next year.
Notable Attendees: R. Donahue and Katrina Peebles, Jennifer Post, Alexandra Champalimaud, Alison Spear, Joao Armentano, Bernardo Fort-Brescia, Laurinda Spear, Howard Lorber, Daniel de la Vega, Jill Eber, Paulo and Lais Bacchi