7th Zones Art Fair Miami
December 3 – 9, 2013, 10:00 – 6 PM.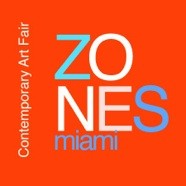 3850 NE. Miami Ct.
Miami, FL 33137
Miami Design District
Website
Early Breakfast: Dec. 3, 10 am – 12 pm.
Party Reception: Saturday, December, 7, 8 pm. – 10 pm.
Regular Schedule
Dec. 3 10am – 6 pm
Dec. 4: 10am – 6 pm
Dec. 5: 10am – 6 pm
Dec. 6: 10am – 6 pm
Dec. 7: 10am – 10 pm
Dec. 8: 10am – 6 pm
The 7th Edition of Zones Art Fair Miami returns this year at the Miami Design District and will feature PERFORMIA 1 an international performance art festival.
Anonymous Boh, Toomas Kuusing and Peeter Allik | Marcelo Gandhi | Brian Geffen | John Germain | Ivania Guerrero | Benoit Izard | Dave Kudzma | David Marsh | Christine Navin | Charo Oquet | Joseriverto Perez | David Prusko | Kristen Soller |
Zones Art Fair is wired to the cultural rhythm of Miami through its ten years of work with the artistic community as an activator in the cultural scene of this city presenting the best-unrepresented artists through their unique and exciting programs. We seek to make non-represented artists visible to collectors and curators. This year's Zones will merge the fair concept with performance festival to create a niche performance based fair that includes live performances, exhibitions, video screening, talks and music.
Zones' focus is on making the work of up-and-coming artists more accessible to the public. This year's edition crosses multiple creative disciplines to offer a daily exciting program of live action performances by international artists under the title PERFORMIA1. PERFORMIA1 is the first edition of a performance festival, which seeks to introduce performance art to the art fair platform. PERFORMIA 1's aim is to inform viewers of the potential capacities of performance art today. The fair offers visitors a detour from the labyrinthine art-fair set-up. One can encounter anything from sculpture, video screenings and paintings to performance pieces, all in a casual atmosphere. Zones' new location at the Design District, across from Locust Projects and close to the De La Cruz Collection allows for viewers to explore an exciting and creative area of Miami.