Gator in the Bay – Art Basel Miami 2013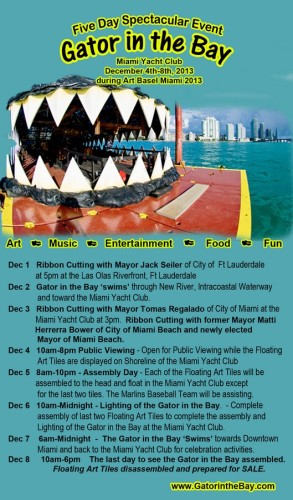 December 4th-8th, 2013
Biscayne Bay
Miami, FL
The Gator in the Bay is a 33,000 pound alligator the size of a football field that will float in Biscayne Bay during Art Basel Miami 2013. The head is a steel sculpture built on a self-propelled barge. The upper jaw is built on the boom of a crane that allows it to open and close. The body will be a photo mosaic printed on material called Floating Art Tile. Using 104 Floating Art Tiles, with each tile 4ft x 8ft and each will have over 3000 unique images the size of a postage stamp, an illusion of the alligator will appear.
A 5 day event was created around Gator in the Bay, from Dec 4th-8th during Art Basel Miami 2013 at the Miami Yacht Club on Watson Island, that will be free to attend and is family friendly. However, we encourage the adults to come back and dance with the Gator at night. Each day has a unique theme and something special happening with the Gator in the Bay. This will be a great time to educate the community about our water issues and why we need the Everglades. This is a perfect location for the 5 day event for many reasons: easy access, easy free parking, security, sanitation, full-bar, full service restaurant with incredibly beautiful views.
If you purchase your tile before December 1st, you can be scheduled to attach your Floating Art Tile and be recorded in the culltural history of Art Basel and Miami.
The purpose of Gator in the Bay Project is to raise awareness for the Florida Everglades. The purpose of the art piece is to show the cooperation between industry and nature.
The Gator in the Bay was featured in over 30 foreign newspapers front page, interviewed by ABC, CBS, NBC, NPR, CNN, Fox News, Yahoo News, Discovery Channel, Huffington Post, The Examiner, thank you Sun Sentinel, and the Miami Herald – A photo of Gator in the Bay – Phase 1 unveiled during Art Basel 2012 was used to promote Art Basel Hong Kong. This year we will be completing the entire alligator which is sure to get attention. During Art Basel 2012, Lambeth & Nagel estimate over $8 million in media advertising was generated as a result of Gator in the Bay.