Look Alive Fest
Day 1, Dec 6 2013, doors 8pm, bands 9pm sharp,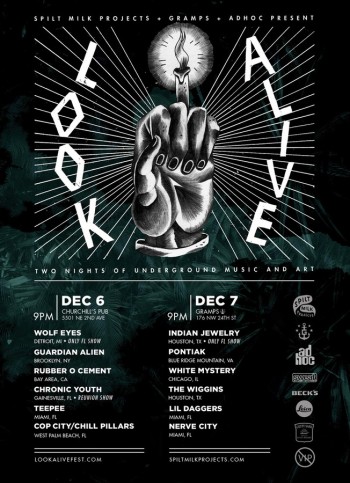 Churchill's Pub
5501 NE 2nd Ave
Miami, FL 33137
$10
featuring Wolf Eyes, Guardian Alien, Chronic Youth, Rubber O Cement, Teepee, Cop City/Chill Pillars.
complimentary Beck's beer is available to the first 100 guests with proper ID. Please drink responsibly.
Day 2, Dec 7 2013, doors 8pm, bands 9pm
Gramps
176 NW 24th St
Miami, FL 33127
free entry before 10pm with RSVP (http://lookalivefest.com/rsvp_2013).
featuring Indian Jewelry, Pontiak, White Mystery, The Wiggins, Lil Daggers, Nerve City.
Spilt Milk Projects, Gramps, and AdHoc.fm present two nights of underground music and art during Art Basel weekend. Made in Miami. Featuring Wolf Eyes (SUB Pop Records, Mi) And Indian Jewelry (TX) During Art Basel Miami Beach Weekend
Credit: Brian Butler (The Upper Hand Art) and Mike Del Marmol
Spilt Milk Projects, Gramps, and Ad Hoc (NYC) present the inaugural Look Alive Fest, featuring exclusive headlining Florida performances by seminal noise rock trio Wolf Eyes from Detroit, MI, and experimental rock outsiders Indian Jewelry from Austin, TX. The Look Alive Fest is a home grown alternative festival curated by working musicians, offering something radically different for discerning fans of adventurous music during Art Basel Miami Beach weekend. The event features both national headliners and notable local bands, including Lil Daggers, Teepee, Cop City/Chill Pillars, and Nerve City.
Wolf Eyes (Sub Pop, American Tapes, De Stijl),comprised of Nate Young, John Olson, and Jim Baljo, are undeniably one of the most vital, important American noise bands around today. They have released countless CD-Rs, LPs, and tapes since 1996, including collaborations with Black Dice, Smegma, Stare Case, academic jazz musician Anthony Braxton, and too many side projects to name. "Wolf Eyes remain one of the most important experimental bands in the world" according to Pitchfork Media. Wolf Eyes were recently featured on the cover of The Wire (their second time gracing the cover of the esteemed UK avant-garde magazine), which included a feature discussing the evolution of the band, as well as its newest album, No Answer: Lower Floors (2013, CD/LP via De Stijl). Wolf Eyes will headline the first night of the fest on Friday, December 6 at Churchill's Pub, supported by Guardian Alien featuring drummer Greg Fox from Brooklyn black metal band Liturgy, a reunion set from Gainesville grunge rockers Chronic Youth, and performance piece by celebrated Bay Area noisemaker Rubber O Cement. Local support includes an increasingly rare appearance by psychedelic shoegaze band Teepee and the eccentric Cop City/Chill Pillars.
Indian Jewelry (Reverberation Appreciation Society) headlines the second night on Saturday, December 7 at Gramps. Indian Jewelry is a noise rock collective founded by Tex Kerschen and Erika Thrasher, accompanied by Mary Sharpe on percussion and electronics, along with a fluid, rotating cast of local musicians and collaborators. Together they are flagbearers for the long Texas tradition of outsider rock 'n' roll – a grand, precarious history spanning the 13th Floor Elevators and Red Krayola, Jandek and Butthole Surfers. As a prolific touring band, Indian Jewelry is noted for seizure inducing live shows, featuring little more than a strobe light in total darkness. "Indian Jewelry stand at a kind of musical crossroads," according to Dazed and Confused Magazine, "where the gloriously dark moments of rock n'roll's past hang side by side with clunky rave synths and a droned-out attitude." Pontiak (Thrill Jockey), comprised of brothers Jennings, Van and Lain Carney who play neo-psychedelic rock with stoner rock flourishes, will provide direct support for Indian Jewelry, as well as White Mystery, a brother and sister garage rock duo from Chicago, IL, and The Wiggins from Houston, TX. Local support includes loner rock nomad Nerve City (Sacred Bones) with a full band, and purveyors of heavy psych, Lil Daggers (Beyond Beyond is Beyond).