Miami Project Art Fair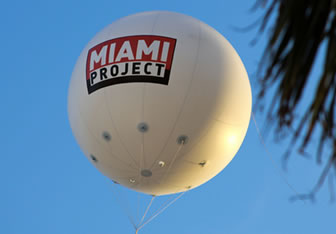 December 3-8, 2013
Miami Project
NE 29th Street and NE 1st Avenue.
Mid-town Miami, FL
Press Preview: Tuesday, Dec 3, 4:30p to 6p
VIP Preview: Tuesday, Dec 3, 4:30p to 10p
Wednesday, Dec 4, 11a to 5:30p
Thursday, Dec 5, 11a to 7p
Friday, Dec 6, 11a to 8p
Saturday, Dec 7, 11a to 7p
Sunday, Dec 8, 11a to 6p
1-day ticket: $25, any single day Wed to Sun
Multi-day ticket: $40, all days, Wed to Sun
Preview ticket: $30, Tues only
Preview + Multi-day ticket: $50, all days Tues to Sun
Miami Project will return to the destination location of the Wynwood Art District from December 3 to 8, 2013. It will again present a selection of historically important and cutting-edge contemporary work side by side, with a unique emphasis on the strength of individual exhibitors' programs irrespective of their primary focus. Sixty galleries from across the United States will show at the fair.
Galleries that represent prominent estates like those of Larry Rivers and Robert Mapplethorpe will exhibit next to those showing today's most exciting young artists. Work from the historic avant-garde will inform and contextualize the best examples of contemporary practice. Galleries are curated into Miami Project based on a serious commitment to important living artists; extensive involvement with remarkable estates; and the strength of their program generally.
The fair's emphasis on presenting quality works in an intimate setting won over its 20,000 visitors last year, and the 2013 edition will again be boutique-scale, allowing for comfortable viewing in a relaxed atmosphere. Miami Project is housed in a deluxe, open-plan tent with soaring cathedral ceilings erected especially for the fair. It will feature roomy aisles and extravagant lounges for a pleasant visitor experience.
Miami Project is presented with support from the Wall Street Journal, Luxe magazine, Perrier, the Midtown Doral, Porcelanosa, New Amsterdam Vodka, and Shellback Rum.
Holiday Popup Shop At Miami Project Features Artist-Designed Merchandise From Premier Nonprofits
Miami Project, the boutique art fair with contemporary and modern artwork side-by-side in Wynwood from December 3 to 8, 2013, will feature a special popup shop for the holidays. Over 50 pieces of artist-designed merchandise will be for sale from $10 to $1,000.
These items were commissioned by a wide range of premiere nonprofit institutions from across the country, including: The New Museum, The Walker Art Center, CreativeTime, Printed Matter, Project Row Houses, Art Production Fund, and Museum ofContemporary Art North Miami. During the run of Miami Project, all proceeds from the popup shop will benefit the participating institutions.
Merchandise by the vanguard artists represented in the shop will include: playing cards and clocks by Tauba Auerbach, beach towels by John Baldessari and KehindeWiley, unique sculptures by the Bruce High Quality Foundation, a knife by PaulChan, bookplates by Francesco Clemente, Eric Fischl, and Claes Oldenberg, magnets and mugs by Tracey Emin, skateboards by Liam Gillick, scarves by Peter Halley, water bottles by Joseph Kosuth, unique sculptures by Margaret Lee, waterbottles and scarves by Raymond Pettibon, shopping bags by Richard Prince, a six-in-one screwdriver by Tom Sachs, a travel wallet by David Shrigley, and building blocks by Lawrence Weiner.
These artist-made items are perfect for holiday shopping. Purchases can be wrapped with giftwrap designed by Daniel Eatock, commissioned by the Walker, free of charge.
Nearby the pop up shop will be a unique opportunity for visitors to the fair to take home an artwork for free. At the Perrier Collect Art Giveaway, the public can enter to win a neon sculpture by San Francisco artist Meryl Pataky.
Exhibitors
Brian Gross Fine Art, San Francisco; Carroll and Sons, Boston; Catharine Clark Gallery, San Francisco; CB1 Gallery, Los Angeles; Chandra Cerrito Contemporary, Oakland; Cirrus Gallery & Cirrus Editions ltd, Los Angeles; Claudia Stone Gallery, New York; Conduit Gallery, Dallas; David B. Smith Gallery, Denver; David Shelton Gallery, Houston; DC Moore Gallery, New York; DCKT Contemporary, Inc., New York; Edward Cella Art+Architecture, Los Angeles; Eleanor Harwood Gallery, San Francisco; Eli Ridgway Contemporary Art, San Francisco; Eric Firestone Gallery, East Hampton; Forum Gallery, New York / Beverly Hills; Fouladi Projects, San Francisco; Fredericks & Freiser, New York; Freight + Volume, New York; Garth Greenan Gallery, New York; George Adams Gallery, New York; Greg Kucera, Gallery Seattle; Haines Gallery, San Francisco; Inman Gallery, Houston; jack fischer gallery, San Francisco; Jonathan Ferrara Gallery, New Orleans; Joshua Liner Gallery, New York; Julie Saul Gallery, New York; Klowden Mann, Los Angeles; Kopeikin Gallery, Los Angeles; Lesley Heller Workspace, New York; Loretta Howard Gallery, New York; Margaret Thatcher Projects, New York; Mark Moore Gallery, Culver City; MORGAN LEHMAN GALLERY, New York; Muriel Guepin Gallery, New York; Patricia Sweetow Gallery, San Francisco; Pavel Zoubok Gallery, New York; PDX Contemporary Art, Portland; Peter Mendenhall Gallery, Los Angeles; Quint Contemporary Art, La Jolla; RandallScottProjects, Washington DC; Rena Bransten Gallery, San Francisco; Richard Heller Gallery, Santa Monica; Richard Levy Gallery, Albuquerque; Rosamund Felsen Gallery, Santa Monica; Ryan Lee Gallery, New York; Steven Kasher Gallery, New York; Steven Zevitas Gallery, Boston; SVA Galleries, New York; Tibor de Nagy Gallery, New York; Traywick Contemporary, Berkeley; walter maciel gallery, Los Angeles; Wasserman Projects, Detroit; Weinstein Gallery, Minneapolis; Western Project, Los Angeles; Yossi Milo Gallery, New York; ZieherSmith, New York; and 101/Exhibit, Miami / Los Angeles.
Miami Project is produced by artMRKT Productions, a firm based in Williamsburg, Brooklyn and operated by Max Fishko and Jeffrey Wainhause. Working in concert with a talented and passionate network of dealers, curators, and arts professionals, artMRKT Productions is proud to present forward-thinking, progressive, and successful events across the country.