Miami Broward Junior Caribbean Carnival 2013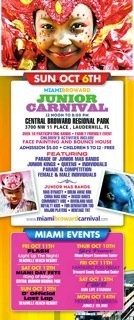 Sunday October 6, 2013, 1:00 p.m. – 8:00 p.m.
Central Broward Regional Park
3700 NW 11th Place
Lauderhill, FL 33311
miamibrowardcarnival.com
Instagram @miabrocarnival
Twitter:@miabrocarnival.
Admission: $1.50 Park Admission fee
$5.00 Event fee
Free Parking
Competition: King, Queen Male and Female Competition; followed by Band Competition
Nine bands registered so far. Break Awae Kru; China Mas; Community Vibes; Fun Generation; Heritage TNT; Major Players; Mas Dynasty; Royalty Kids; Wassi Babes.
Miami Broward Jr. Carnival Sets the Stage For One of The Most Colorful and Festive Celebrations That Inspires Cultural Awareness Among Young People.
Heritage TNT Mas Band Looks To Keep Their Title of "Jr. Band of the Year"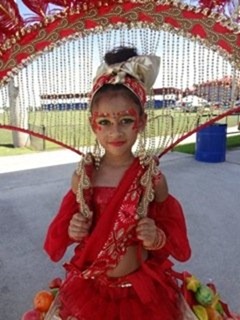 Young People of South Florida are set to celebrate the roots of their culture at the Miami Broward Caribbean Jr. Carnival on Sunday, October 6, 2013 at the Central Broward Regional Park (3700 NW 11th Pl  Lauderhill, FL 33311) from 1pm-8pm. The Junior Carnival is an annual parade and Caribbean inspired family event that gives young people  the opportunity to celebrate their place within the Caribbean culture. Young masqueraders will compete based on their creativity, presentation and craftsmanship in their vibrant and colorful masquerade costumes.
Miami Broward Jr. Carnival is also one of the symbols of diversity and inclusion as there are non-Caribbean children of various backgrounds that also participate in the parade and festivities. The Jr. Carnival gives young people an opportunity to shine while taking part in an event that is important within the fabric of the Caribbean heritage.
Yuriah Watson, who has been playing mas for 6 years, says "it is his happiest time besides playing sp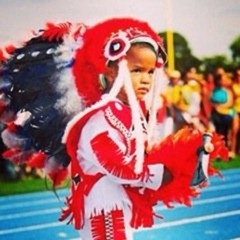 orts because he is with a lot of children his age just having lots of fun, and looks forward to it every year. He gets excited at the start of the year asking about his costume."
Other Attractions:Â  Face Painting; Bounce house; Slide; Steel orchestra; junior entertainers
Food, Drinks, Arts/Crafts on sale