A Gala in the Tropics benefiting Asociacion Emergencia Ayacucho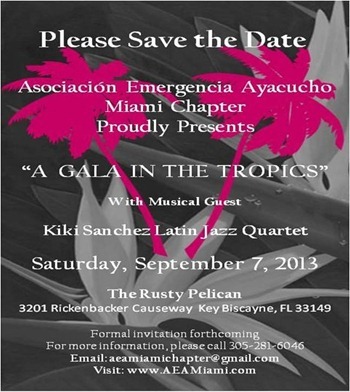 Saturday, September 7, 2013
Rusty Pelican
3201 Rickenbacker Causeway
Key Biscayne, FL 33149
Individual tickets are at $100.00 per person.
www.aeamiami.com
Asociacion Emergencia Ayacuho  (AEA) is a non profit organization that raises funds to support orphan children by providing them shelter and education in Ayacucho, one of the poorest regions in Peru.
AEA, a non-profit association, was founded in 1985 in response to the growing number of orphaned children that survived terrorist attacks in Ayacucho during Peru's most tumultuous political years. 26 years since its inception AEA has cared for more than 500 children from the city of Ayacucho by providing them proper education, basic needs and the inspiration to become upstanding citizens of Ayacucho.  The same mission that aimed to rescue children in dire need for basic care during a state of emergency in Ayacucho, now allows AEA to fully sponsor six entire orphanages in Ayacucho who depend on our support.
    With the help of our sponsors,  in 2012, AEA sent $20,000 to our five orphanages including funds from our "Godparent" program, an annual gift commitment that pairs a sponsor with a child living from one of our orphanages.