TattooLaPalooza Summer Edition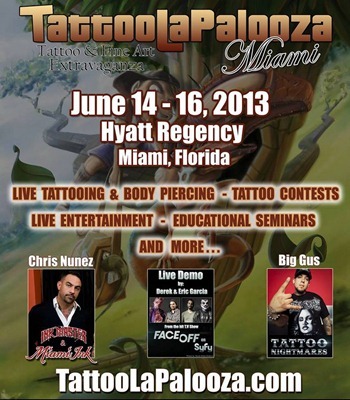 June 14-16, Friday  4pm – Midnight
Saturday  Noon – Midnight
Sunday Noon – 10pm
Hyatt Regency Hotel
400 South East Second Ave.
Miami, Florida 33131
General Admission – 1 Day Pass
$20.00 in advance
$25.00 at the door
General Admission – 3 Day Pass
$40.00 in advance
$60.00 at the door
Children 12 and under are FREE.
TattooLaPalooza is not only a tattoo convention but an all around art convention. We encourage artists of all mediums to become a part of this great event. Come get Tattooed at TattooLaPalooza Tattoo & Fine Art Extravaganza. Featuring over 300 world famous artists, live entertainment, live art performances, one of a kind tattoo contests, unique vendors,prize giveaways and more.
A tattoo convention is a meeting and exhibition for tattoo practitioners and enthusiasts,as well as anyone who wishes to see the world of tattooing up close. Tattoo conventions range from small events sponsored by a local business that may last a day, to major international conventions spanning a weekend or the better part of a week. They may include contests and exhibitions, booths selling tattoo-related items and even booths rented for use by tattoo artists who work during the convention. Collectors may attend conventions specifically to obtain a tattoo from a particular visiting artist.
Other events may include professional events such as workshops and meetings as well as social events. Contests, usually restricted to registered participants, usually feature a variety of categories: portraits, new school, traditional, black-and-gray, tribal, oriental, backpieces, sleeves and so on.
Judging may be by vote or by a panel of judges.