Red Dot Art Fair
Tuesday, December 3rd, Opening Reception to benefit Million Trees Miami, 6am – 10pm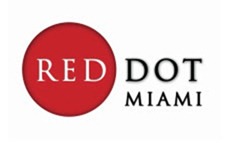 Wednesday, December 4th, 11am – 7pm
Thursday, December 5th, 11am – 8pm
Friday, December 6th, 11am – 8pm
Saturday, December 7th, 11am – 8pm
Sunday, December 8th, 11am – 6pm
Wynwood Art District
NW 31st Street and NE 1st Avenue (Midtown Blvd.)
Miami, FL 33137
www.reddotfair.com .
Red Dot Art Fair  is pleased to announce its return to the Wynwood Art District in Miami,  December  3 – 8, 2013. Red Dot will remain in the same prime location, adjacent to Art  Miami, which runs concurrent to Art Basel Miami Beach.Building upon its reputation as  a  diverse  fair,  Red  Dot  will  offer  a  unique  selection  of  approximately  60  galleries  exhibiting painting, sculpture, photography and fine-art objects.  The  opening  reception  on  Tuesday,  December  3rd,  will  benefit  Million  Trees  Miami.  Million  Trees  Miami  Campaign  is  a  Community-wide effort  to plant  1 million  trees  by  2020 in order to achieve a 30% tree canopy cover for Miami-Dade county. Million Trees  Miami  has  partnered with  the Miami-Dade Parks Foundation,  a  nonprofit  organization  that aims to preserve parks and green space. Red Dot is proud to support such a great  cause.
Red Dot  Fair  Miami  strives to create a  fair  for  galleries specializing in  emerging, midcareer and established artists that present work of lasting value. The luxurious layout of  the 60 thousand square foot tented venue will  provide visitors with a sophisticated and  friendly environment to view artwork presented by the galleries. Red Dot is excited about  being part of  Miami's vibrant art scene and its great fabric of  galleries, museums and cultural institutions.