Live Demonstration of the Quadski on Land and Lake at Seminole Casino Coconut Creek
Thursday, 05/23/2013, 10:00 am – 11:00 am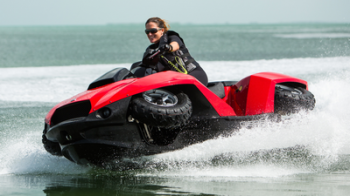 Seminole Casino Coconut Creek
5550 NW 40 Street,
Coconut Creek, Florida 33073
Webpage Link
Seminole Casino Coconut Creek will give a free demonstration of the GIBBS Quadski, the amphibious personal watercraft, on Thursday, May 23 from 10 a.m. – 11 a.m. at the lake in front of the casino. Just another example of its award-winning promotions, Seminole Casino Coconut Creek is the first casino in the country to give away the Quadski. Players should jet in for their chance to win!
With its all-terrain tires and four-cylinder, BMW-supplied engine, the Quadski reaches speeds of 45 mph on both water and land and transitions between them in seconds. At the press of a button, the Quadski's wheels deploy when approaching land and retract after entering the water.
Beginning May 23 at 7 a.m., players will receive an entry for the Quadski Land & Sea Giveaway for every 50 slot points earned and every $200 wagered on tables. On Monday, May 27, from 1 p.m. – 4 p.m., a drawing will be held each hour giving 25 players the chance to become a finalist. Two players every hour will become a finalist. After the 4 p.m. drawing, the eight finalists will compete to see who the grand prize winner is.
The grand prize winner will win the GIBBS Quadski. Second through eighth place will win Free Play ranging from $750-$1500. Ninth through 100th place will win between $200 and $500 in Free Play. To participate must be at least 21 years old and a Seminole Player's Club member. Membership in the Seminole Player's Club is fast, free and easy. Visit the Player's Club at Seminole Casino Coconut Creek for more details.