Florida Supercon 2013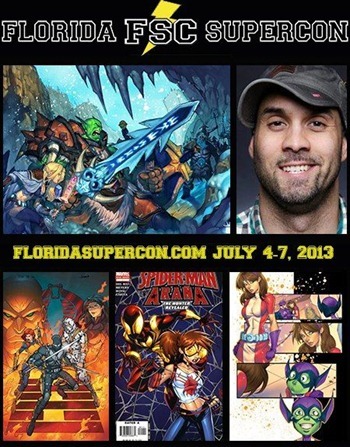 Thursday, July 4: 11:00am – 3:00am
Friday, July 5: 10:00am – 3:00am
Saturday, July 6: 10:00am – 3:00am
Sunday, July 7: 10:00am – 3:00am.
The MACC
711 NW 72nd Ave
Miami, FL 33126.
www.floridasupercon.com
Tickets start at $25 in advance and $30 at the door
South Florida's Largest Comic Book, Anime, Animation, Video Game, Fantasy, Sci-Fi and Pop Culture Convention
Over 350 Guests including George Takei, Adam Baldwin, The stars of The Walking Dead, The stars of Comic Book Men, 20th Anniversary Power Rangers Reunion, and some of the biggest names from the world of Comic Books, Anime, Animation and Science Fiction descend on Miami 4th of July weekend
Florida Supercon returns for four full days of fun. The eight year old event is South Florida's largest geek event, and will be attended by upwards of 20,000 fans and features over 350 comic book, film, television, stage, music, and anime guests. There will be over 1,000 events, including celebrity Q&A's, industry panels, writing workshops, video game tournaments, bands, dance parties, cosplay contests, cosplay photo shoots, Florida Super Championship Wrestling, and much more! This year's music festival will feature over 50 national and local bands. Florida Supercon is the largest cosplay event in South Florida, with thousands of cosplayers in attendance, offering dozens of events and competitions.
Just some of the over 350 guests already announced include:
George Takei – Star Trek (Mr. Sulu), Heroes (Kaito Nakamura)
Adam Baldwin – Firefly (Jayne Cobb), Chuck (John Casey)
Chandler Riggs – The Walking Dead (Carl Grimes)
Laurie Holden – Star of Walking Dead (Andrea), The X-Files (Marita Covarrubias)
Jason David Frank – Mighty Morphin Power Rangers (Tommy, The Green Ranger)
Al Plastino – Legendary Artist of Superman and Batman, Co-Creator of Supergirl
Dave Gibbons – Legendary Artist and Co-Creator of The Watchmen, Give Me Liberty
The Comic Book Men – Stars from AMC's Comic Book Men
Andrew Hussie – Creator of Homestuck, MS Paint Adventures
Jeremy Shada – Star of Adventure Time (Finn), Batman: The Brave and the Bold (Robin)
Hynden Walch – Star of Adventure Time (Princess Bubblegum), Teen Titans (Starfire)
Veronica Taylor – Star of Pokemon (Ash Ketchum), Teenage Mutant Ninja Turtles (April O'Neil)
MC Frontalot and Green Jelly – Musical Headliners
Top Writers and Artists from the Comic Book industry, such as Olivier Coipel (Artist of The X-Men, The Avengers), Nick Cardy (Legendary Comic Book Artist of Teen Titans, Aquaman), Ron Garney (Artist of Spider-Man, Uncanny X-Force), Tony Harris (Artist of Starman, Ex Machina), Tony Bedard (Writer of Green Lantern, Blue Beetle), Allen Bellman (1940's Captain America Artist), Georges Jeanty (Artist of Buffy the Vampire Slayer), Braden Lamb (Artist of Adventure Time), Clay Mann (Artist of X-Men, Gambit), Rick Remender (Writer of Uncanny Avengers, Captain America), George Perez (Classic Artist of Superman, Teen Titans, Wonder Woman, The Avengers), Shelli Paroline (Artist of Adventure Time), Brad Walker (Artist of Superman, Guardians of the Galaxy, Green Lantern) and many more!
More stars of film and television, including Dichen Lachman (Dollhouse, Being Human, Last Resort), Traci Lords (Blade, First Wave), Theodus Crane (The Walking Dead), Travis Love (The Walking Dead), Erin Gray (Buck Rogers, Silver Spoons), Jim Kelly (Enter the Dragon), Priscilla Barnes (Three's Company), Jett Lucas (Star Wars) and Jennifer Spence (Continuum, Stargate, The 4400).
More stars of Animation and Anime, including Richard Horvitz (Invader Zim), Brittany Karbowski (Soul Eater, Full Metal Alchemist), Gregg Berger (Transformers, G.I. Joe, Star Wars Clone Wars), Garry Chalk (Transformers, G.I. Joe), Dan Gilvezan (Spider-Man and his Amazing Friends, Transformers), Larry Kenney (Thundercats), Morgan Lofting (G.I. Joe, Transformers), Brina Palencia (One Piece, Spice and Wolf), Hal Rayle (Teenage Mutant Ninja Turtles, Transformers, G.I. Joe), Dana Snyder (Aqua Teen Hunger Force, Venture Brothers), Eric Stuart (Pokemon, Yu-Gi-Oh!) and Stephanie Young (Claymore, One Piece).
A very special 20th anniversary reunion of stars from Mighty Morphin Power Rangers w/ Jason David Frank (Tommy Oliver), Walter Jones (Zack Taylor), David Yost (Billy Cranston), Robert Axelrod (Lord Zedd), Barbara Goodson (Rita Repulsa) and Richard Horvitz (Alpha 5).
Wrestling Legends such as Sgt. Slaughter, Hacksaw Jim Duggan, Raven, Kevin Sullivan and Greg Valentine.
Some of the highlight events include Q&A's with each of our guests, the FSC Costume Competition (with over $3,750 in cash and prizes), Florida Super Championship Wresting, the FSC Masquerade Costume and Performance Competition ($1,000 Grand Prize), FSC Masquerade Ball – An Evening at the End of Time and Space (Dr. Who themed), Video Game Industry Workshops, VIP parties, Writer workshops and much, much more!