Chef Jah Presents A Love-A-Fare. Miami Pop Up Dining Experience.
Friday, 05/03/2013, 06:00 pm – 10:00 pm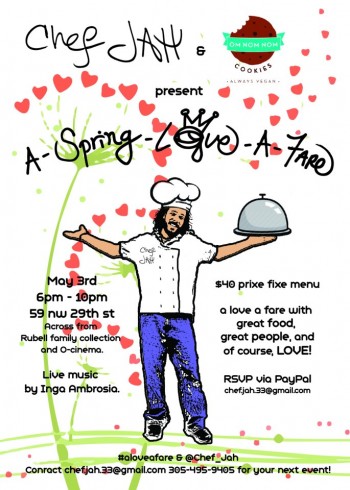 Buddy's Bar B Q Pit
59 NW 29 Street,
Miami, Florida 33137
Facebook Link
This is a dinner Pop-Up and is a art-collective-dining experience, pairing friends and food. Chef Jah (Justin A. Hamel) has been a chef for 7 years. His specialty is fusion, bold bright flavors and simplicity. The food is market fresh and local. His approach is to blaze a "food and lifestyle" trail with seasonal and fresh meals, bringing together like-minded people. You can BYOB your own wine, and also there will be a local Wynwood sommelier pairing free wine with each course. RSVP Required, Space is Limited. Music by DJ Inga Ambrosia. Vegetarian Options available.
PRICE:
$40 per person (prepaid)
$50 per person (after Friday April 26th, 2013)
RSVP:
Pay via paypal: Send to: chef.jah.33@gmail.com
MENU:
1st course : Honeydew Gazpacho
Pickled cucumber, siracha and micro basil oil.
2nd course : Beef Taretar
Fin herbs and crispy shallots.
Veg Option : Deep fried tofu
Cilantro-lime marinade, avocado puree, and spring relish.
3rd course : Lemon-shallot poached Cobia
Orange and ginger brussel sprouts.
Meat option : Braised short rib
Parsnip two ways and spicy arugula oil.
4th course – Om Nom Nom ice-cream sandwich
Orange zested chocolate chip cookie, vegan pistachio Ice cream
Bittersweet chocolate sauce
Questions: Email chef.jah.33@gmail.com or call 305-495-9405.