Cannonball presents: Architecture Design Studio's Spring 2013 Brief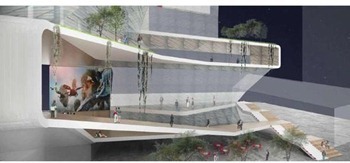 Tuesday, April 23, 2013 – 7:00-9:00 PM
Cannonball
1035 N Miami Ave, Suite 200
Miami, FL 33136
Free and Open to the Public
Kindly RSVP by contacting us at splash@cannonballmiami.org  or 786-347-2360.
Cannonball and Architecture Design Studio invite you to experience the final Spring 2013 Studio Brief, where architecture students propose innovative projects to local developers.
Funded by Tony Goldman, Architecture Design Studio is a platform for architecture students and landowner/developers to collaborate in reinventing the Miami urban landscape. Since all built architecture is real estate, the students are responsible for business innovation, market, and financial calculations of the proposed project.
Five development entities that have passionately invested in specific urban neighborhoods in Miami have contributed their time and expertise to the Spring 2013 semester studio program. The students have designed context specific architecture for these neighborhoods and connecting components between them. Their projects explore new technologies and popular demand to push the boundaries of architecture and development. Underlining concepts include detachment from aging infrastructural grids, local economies, and affordability. The students provide proposals with innovation while the developers challenge the students with applicability.
Supporting Developers:
Chris MacLeod – Park West
Goldman Properties – Ocean Drive
Felipe Cano with Moishe Mana – Wynwood
Avra Jain – Edgewater
Damian Najman – Coral Way
Participating Students:
Javier Alonso, Irvin Cuellar, Paty Duran, Jose Garcia, Juan Geles, Daneele Hall, Faraas Hannan, Ricardo Leyes, Egipcua Perez, Trina Robinson, Marcello Usbeck, Natalie Velsquez, and Meredith Woods