Building A Better Board Workshop
Wednesday, 04/17/2013, 05:00 pm – 08:30 pm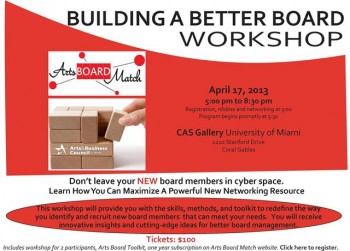 CAS Gallery University of Miami
1210 Stanford Drive ,
Coral Gables , Florida 33146
Webpage Link
Don't leave your NEW board members in cyber space.
Learn How You Can Maximize A Powerful New Networking Resource
ARTS BOARD MATCH is an engaging interactive website designed to help you recruit new Board members and better manage your existing board. It's like a Match Up social network for arts leadership.  Developed by the Arts & Business Council the ARTS BOARD MATCH site showcases your organization to hundreds of top professionals from the corporate and private sectors looking to "match up" with the right group and give back through board participation.
It's like a dating website but for board matches and It's the dynamic new resource you cannot ignore!