The 6th Annual Memorial Weekend Comedy Fest
Sunday, 05/26/2013, 07:00 pm – 12:00 am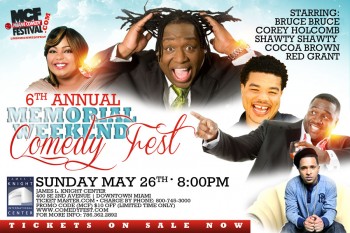 James L. Knight Center
400 SE 2nd Avenue / Downtown Miami,
Miami, Florida 33131
Webpage Link
The 6th Annual Memorial Weekend Comedy Fest
Miami, FL – Miami Comedy Fest and New World Entertainment returns May 26th, 2013 with the hottest annual Memorial Weekend event in South Florida! For the sixth consecutive year, the Memorial Weekend Comedy Festival will once again take over the James L. Knight Center in Downtown Miami. This year's show features the star-studded and in-your-face comedy of Bruce Bruce, Corey Holcomb, Shawty Shawty, Cocoa Brown and Red Grant.
As tens of thousands descend upon Miami, so does some of comedies brightest stars. Coming off of last years sold out event with Tommy Davidson, John Witherspoon, Faizon Love, and Michael Blackson, the 6th Annual Memorial Weekend Comedy Festival plans to be a stellar comedic performance. For the past six years, CEO of New World Entertainment and Miami Comedy Fest have produced the only annual Memorial Weekend comedy show in Miami. "Every year, we want to bring on board new talent and comedians and produce a great show to give the people of South Florida. The 2013 show lineup will not disappoint," states Chad Thomas. "The weekend is full of partying and beach fun, but come Sunday night it's time to have a good laugh before you head home on Monday," Chad continues. With an incredible lineup of features, the 6th Annual Memorial Weekend Comedy Fest boasts the comedic legend Bruce Bruce and exciting special guests such as the hilarious Corey Holcomb, Shawty Shawty of MTV's Wild 'n Out, Cocoa Brown from Tyler Perry's For Better or Worse sitcom on the Oprah Winfrey Network and Def Comedy Jam alumni Red Grant.
The James L. Knight Center is located in Downtown Miami. Tickets went on sale Monday March 22, 2013. Tickets can be charged by phone at 800.745.3000 or bought at the James L. Knight Center box office. Additional information can be found on www.miamicomedyfest.com.
For more information:
Contact:
Miami Comedy Festival
786.362.2892