Clothes Off My Back
Sunday, 04/28/2013, 04:00 pm – 08:00 pm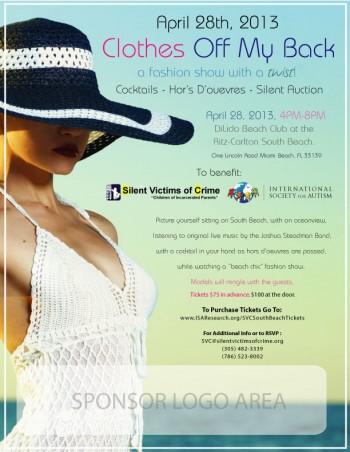 The Ritz-Carlton South Beach @ the Dilido Beach Club
1 Lincoln Road ,
Miami Beach, Florida 33139
Webpage Link
Picture yourself sitting on South Beach, with an ocean view, listening to original live music by the Joshua Steadman Band, with a cocktail in your hand as hors d'oeuvres are passed, while watching a "beach chic" fashion show.
All this will be followed by a "not so ordinary" silent auction,
so be sure to bring your credit card!
Silent Victims of Crime (SVC) and the International Society for Autism (ISA) collaborate on their 1st annual event, to benefit the Youth Leadership Program. This initiative allows our children to focus on higher education, conscious decision-making, and giving back to society in a supportive and positive environment.