ActionCoach 6 Steps to Massive Results
Tuesday, 04/02/2013, 05:30 pm – 07:30 pm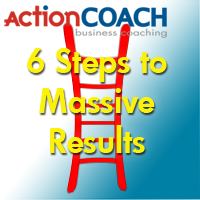 The Offices at the Biltmore Hotel ActionCOACH business coaching
1200 Anastasia Ave, Suite 100,
Coral Gables, Florida 33134
Webpage Link
Learn How to Make Your Business Work So That You Don't Have To!
What if you could navigate those "waters" easier and more profitably than ever?
What if you were armed with the knowledge more wealth is created during an economic "down turn" than is ever made in a "boom"? What if you had historical insight that most "recessions" over the last 150 years lasted only 15-months while expansions lasted more than 60-months? What if 2 hours out of your busy schedule could transform the way you view your business forever?
Price: $29.95
RSVP: http://www.actioncoachteamsage.com/events/2013/04/02/seminars/6-steps-to-massive-results/
Here´s what you'll learn at 6 Steps to Massive Results:
1. How to work on your business instead of in your business
2. How to take immediate control of the time you spend at your business
3. How to turn your marketing and advertising into an investment instead of an expense
4. How to get back thousands of dollars in lost profits
5. How to recruit, motivate, educate and retain exceptional employees
6. How to leverage your time to maximize efficiency and profits
7. How to systemize your business to provide consistent, exceptional customer service
8. How to get the quality of life that you started your business for in the first place