2nd Annual "Voices of Leadership" VIP Reception and Miami Launch of Broadway Musical Fela!
Monday, 03/18/2013, 07:00 am – 11:00 pm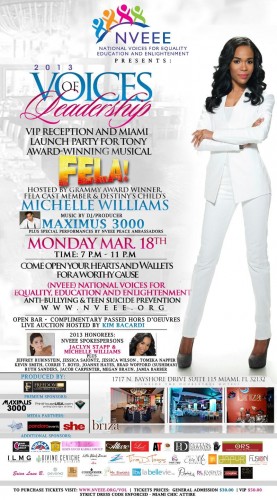 Briza on the Bay
1717 N. Bayshore Drive, Ste 115,
Miami, Florida 33132
Buy Tickets Link
National Voices for Equality, Education, and Enlightenment (NVEEE), a South Florida based anti-bullying organization, will welcome back celebrities, elected officials, young artists, and educators, to their 2nd Annual "Voices of Leadership" Reception and Miami Launch Party for Tony Award-Winning Musical FELA!
This reception will be held Monday, March 18, 2013 from 7:00 p.m. – 11:00 p.m. at Briza on the Bay, 1717 N. Bayshore Drive Miami, FL 32132. Tickets are $30 for General Admission and $50 for VIP Admission. To purchase tickets visit http://tinyurl.com/a747olu. All proceeds from this event will help support NVEEE's mission to prevent bullying, violence and suicide among youth families and communities through direct service, mentoring and prevention education.
Spokesperson Michelle Williams, along with cast members of Fela! will attend NVEEE's Reception and the Miami Launch of the Broadway Musical. "Fela is delighted to be affiliated with NVEEE. Fela is about having each others back, self esteem and the fight for human dignity. Fela's struggle and the struggle of the children who NVEEE serves have much in common – believe in yourself, stand up for who you are, have no fear, and you can change the world. That is why the musical Fela! exists and what NVEEE teaches everyday," said Lead Producer Stephen Hendel.
The event will include a Live Auction hosted by Miami philanthropist Kimberly Bacardi and Erin Milchman, with items including a $500 gift certificate to Allure Spa, and an autographed guitar by CREED, donated by Jaclyn Stapp and her husband Scott Stapp, lead singer of the multi-platinum rock band, CREED, with music by Percussionist – Sunny Singh, Saxophonist – Leo Casino and DJ Maximus 3000.
"The highlight of the event will be the awards ceremony honoring individuals who use their voices to speak out against bullying as UPstanders instead of BYstanders" said Jowharah Sanders, Founder of NVEEE. "I don't think there will be a dry eye in the room after they hear original music from Verona Rose, CJ Fam, Sivan Ben-David and Maggie Baugh, who are four students that volunteer as NVEEE Peace Ambassadors and who are overcoming bullying through music." Other student Peace Ambassadors who have combined volunteered over 5,000 hours within the past 3 years include Ruth Sanders, Jacob Carpenter, Jamia Barber and Megan Braun. These four students will receive Community Service Awards, presented by Hollywood Actor Vincent De Paul, and they will also receive handmade designer jewelry donated by a returning sponsor, Loud Chic!
A very special thank you to Freedom Concierge Services for producing the event, to Briza on the Bay for donating this upscale event space, and to the restaurant vendors who are sponsoring the catering and desserts including: Chef Jackie Salas, Divino Ceviche (Peruvian Cuisine), Fusion (Latin Cuisine), Tira D. Toss (Peruvian and Japanese Cuisine), and Sweet and Tipsy Cupcakes. Thank you to our sponsors: Influential Lifestyle Media Group, Maximus 3000, Printhouse USA, Loud Chic, Miami Events Group, Little Black Dress Vodka, Zeta Entertainment, Brugal Rum, Cutty Sark Whisky, Kim's Good Karma Group, Allure Rejuvenation and Anti-Aging Spa, Cafe Mocha, LV Productions, Pettus & Dawkins Financial Group, Alwayz Therro, ORS-Formerly Organic Root Stimulator.
About NVEEE
NVEEE is a community-based 501(c)(3) nonprofit established in October 2009. Our mission is to prevent bullying, violence and suicide among youth families and communities through direct service, mentoring and prevention education. We are a diverse team of professional educators, business leaders, parents and students who took our concerns about student safety and well-being and put our passion into action-moving from bystanders to community leaders. NVEEE has reached nearly 10,000 teachers, students, parents, and community leaders through our Mentoring Program, Peace Ambassador Program, After School Program, and our signature Not On My Watch School-wide Bullying Prevention Programs.
About FELA! on Broadway
Fela! is an inspiring rhythmic tale of Fela Kuti, who created Afrobeat – a melting of jazz, funk and African rhythm and harmonies. The show is electrifying audiences with its passionate sounds and soulful rhythms. While celebrating the life and struggles of Fela Kuti, Fela! showcases some of the most exhilarating sounds and musical blends that are uniquely Fela Kuti. Having won three Tony Awards, Fela! takes its audience on a exciting and vital experience through Kuti's life as an artist and human rights activist.