Shot in the Hand Jam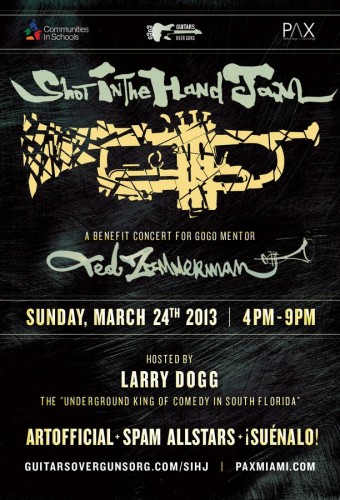 March 24, 2013, 6pm
PAX
337 SW 8th Street
Miami, FL
Website Link
Facebook Invite
Donations
with Suenalo, Spam Allstars, and ArtOfficial
hosted by Larry Dogg
Local musicians Suenalo, Spam Allstars, and ArtOfficial organize a benefit concert for one of their own – trumpet player Ted Zimmerman. Ted walked out his front door on New Years Eve and was struck in the hand by a stray bullet. Although thankful it wasn't more serious, it did strike him in the hand that he plays with. Needless to say he has not been able to keep up his work schedule during his recovery. Ted is also a volunteer mentor for the local organization Gogo (Guitars Over Guns) which provides musical mentorship in local schools that do not have music programs. The event on March 24th will raise funds for Ted's hospital bills and for the Gogo Organization.
On New Year's Eve, Ted Zimmerman was struck by a stray bullet on his front porch. The bullet (most likely from someone firing into the air) whizzed by his head and went though his first finger, shattering the bone, before lodging in his middle finger. Ted is a professional trumpet player with one of Miami's most prominent bands, The Spam Allstars, and a highly sought after freelance musician. For the last 4 years, he has also been a mentor with the GOGO (Guitars Over Guns Organization) program, a non-profit aimed at using music to provide at-risk middle school students an alternative to the negative influences that typically dominate their environs.
While he is lucky to be alive, the bullet cost Ted more than an overnight hospital stay and endless medical bills. After an involved surgery on his hand to remove thousands of bone fragments, Ted found out that he was fortunate to not have irreversible tendon or nerve damage. The bullet however shattered the bone in his index finger (one of the three he depends on for playing the trumpet) so completely that the bone could not be fused.
He will spend the next few months hoping and waiting for enough bone callus formation to allow him to begin the long road of physical therapy – learning how to use his finger again by picking up marbles one at a time. The surgeon told Ted he can hope for 50% mobility in the knuckle of his index finger. At best, he is expected to make a full enough recovery to relearn how to play the trumpet flat-fingered.
Thank you for using Soul Of Miami!