Orphaned Starfish Foundation Celebrates First Annual Gala
Friday, 03/15/2013, 08:00 pm –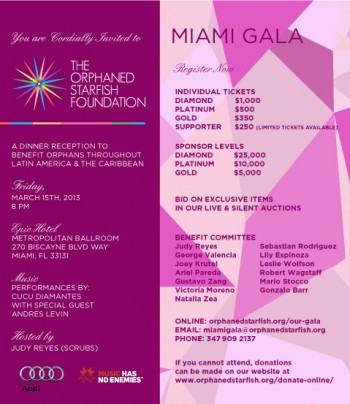 Epic Hotel
270 Biscayne Boulevard Way ,
Miami, Florida 33131
Webpage Link
The Orphaned Starfish Foundation (OSF), an internationally-recognized nonprofit organization that provides computer vocational training for orphans and disadvantaged children throughout the developing world, will celebrate its 12th anniversary on Friday, March 15th, with its first Annual Miami Fundraising Gala at the Epic Hotel in downtown Miami.
This is the New York City-based Foundation's first fundraising event in Florida and it will honor
orphaned, impoverished and disadvantaged children throughout the world. Two, young HIV-positive girls from the OSF program in Cali, Colombia are being flown in as guest honorees.
The evening begins at 8 p.m. with celebrity red carpet arrivals, passed hors d'oeuvres, open bar and a silent auction followed up a three-course dinner, live auction and musical performance.
"Scrubs" Judy Reyes will preside as the mistress of ceremonies and live entertainment will be provided by Grammy nominated Cuban-American singer, song writer and actress Cucu Diamantes accompanied by a 10-piece band.
More than 200 VIP guests are expected to attend including Nicolas Felizola (Fashion Designer), Greg Buttle (NY Jets Legend), Quique Usales (Stylist/Reporter, Telemundo), Natalia Zea (Reporter, CBS4), Robert Manrique (Actor, Model) and more in support of OSF.
"This has been a very exciting year for the Orphaned Starfish Foundation and I am humbled by the amount of support we are receiving from our friends in South Florida," said Andrew Stein, Chairman of the Orphaned Starfish Foundation. "The upcoming celebrity-studded fundraising gala will move the Foundation to a whole new level and enable us to improve the lives of even more children around the world."
The Gala is sponsored by Audi, E Tech and Makar Properties, among others.
In years past, noted individuals from the world of entertainment and sports were on-hand to join in the celebration, including: Christian Campbell (Actor), Adam Brody (Actor), Wolfgang and Gelila Puck (Restaurateurs and Philanthropists), Mariano Rivera (Major League Baseball Pitcher, NY Yankees), Plaxico Burress (Wide Receiver, NY Jets), Harry Carson (Hall of Fame Linebacker, NY
Giants), Alex McCord and Simon Van Kempen (Real Housewives of NY), Pras Michel (Musician and Activist, The Fugees), Darryl "DMC" McDaniels (Musician, Run DMC), America Olivo (Actress), Danielle Doty (Miss Teen USA 2011), Leila Lopes (Miss Universe 2011), Dayana Mendosa (Miss Universe 2010), Kamie Crawford (Miss Teen USA 2010), Justine Pasek (Miss Universe 2002), Denise Quiñones (Miss Universe 2001), Susan Miller (Playwright), Lynda Lopez (News Anchor, WCBS Radio) , Stephen Schwartz (Writer and Composer), among others.
Tickets can be purchased at http://www.orphanedstarfish.org/our-gala/.