The Electric Pickle Pop-up with Aquabooty Miami, Red Bull Music Academy + Smoke n' Mirrors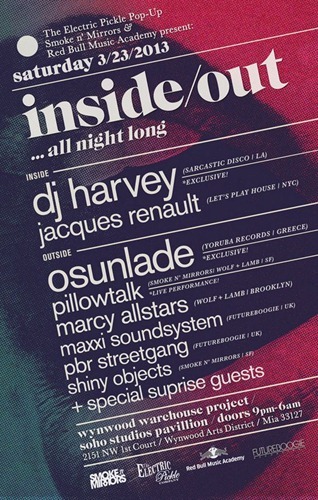 Saturday March 23rd, Doors 9pm – 6am
Wynwood Warehouse Project @ SOHO Studios_Pavilion
2151 NW 1st Ct
Wynwood Arts Disrtict
Miami FL, 33127   
Advance presales are highly recommended  
The Electric Pickle Pop-up, joins forces with, Aquabooty Miami, Red Bull Music Academy + Smoke n' Mirrors
bringing Miami WMC week some serious underground heat!
Our merry band of misfits will be taking over the Pavilion and adjacent outdoor area @ Soho Studios, in Miami's Wynwood Arts District… creating a totally custom nightlife experience.
Featuring 2 state of the art sound stages for your disckoid dancing pleasure, accompanied by custom lighting, video installations and bone shaking hi-end sound. With special live performances alongside exclusive sets from some of this worlds top DJs traversing the edge of the dance music underground. Expect an epic journey of emotional and musical uproar + some very special surprises along the way.
Thank you for using Soul Of Miami!