Masters At Work At Sea with Louie Vega and Kenny Dope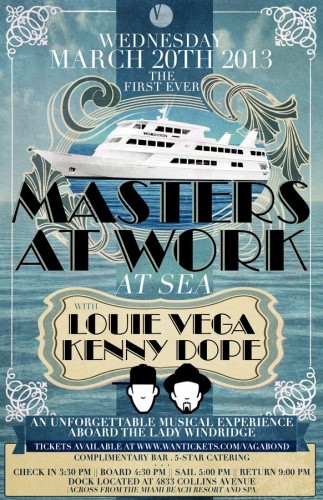 Wednesday, 03/20/2013, 03:30 pm – 09:00 pm
Dock Located at 4833 Collins Avenue (Across from The Miami Beach Resort and Spa)
Miami Beach, Florida 33140
Facebook Link
Their name says it all – Masters At Work.
For over 20 years "Little Louie" Vega and Kenny "Dope" Gonzalez have pioneered a journey through house – defiantly melding elements of hip-hop, disco, jazz and funk to amass an overwhelming body of dynamic and universally celebrated work. In the process, the two native New Yorkers have established themselves as iconoclastic producers, remixers and musical visionaries, purveying a sound and rhythm that has moved dance music enthusiasts across the globe.
On Wednesday, March 20, 2013 set sail with the Masters at Work aboard the exquisite Lady Windridge Yacht in Miami for what is sure to be one of the most exclusive gatherings of the Winter Music Conference. Set aboard a luxury yacht, the first ever 'Masters At Work at Sea' will cruise along spectacular Miami Beach waterways from 5pm – 9pm and feature a complimentary bar and 5-star catering. Join us for an unforgettable musical experience curated by Louie Vega and Kenny Dope, and co-produced by Carmel Ophir (The Vagabond, Creations) against the backdrop of a majestic Miami sunset.
Check in begins at 3:30pm with boarding beginning promptly at 4:30pm. The yacht departs at 5:00pm – don't let this ship set sail without you!
Dock Located at 4833 Collins Avenue
(Across from The Miami Beach Resort and Spa)
CHECK-IN 3:30 PM
BOARD 4:30 PM
SAIL 5:00 PM
RETURN 9:00 PM
Produced By:
Creations PMG . MAW . The Vagabond
—
Buy your tickets today:
http://vagabond.wantickets.com/
Masters at Work:
https://www.facebook.com/pages/Masters-At-Work/116860801752942
Little Louie Vega:
https://www.facebook.com/LittleLouieVega
Kenny Dope:
https://www.facebook.com/pages/Kenny-Dope/36766184214