The Love Club with Nikki Novo
Wednesday, 03/13/2013, 07:00 pm – 09:00 pm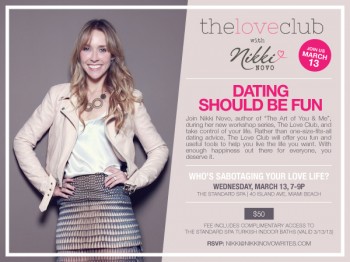 The Standard Spa
40 Island Ave.,
Miami Beach, Florida 33139
Webpage Link
— For singles seeking real love, the rough-and-tumble world of dating can be downright daunting. But Relationship Coach Nikki Novo has a crazy idea: Dating should be fun! To prove it, the Miami native created a three-part dating workshop to help locals navigate the ever-finicky mating scene in Miami. Hosted exclusively held at The Standard Spa Miami Beach, Nikki coined her classes — drum roll, please — The Love Club.
Beginning Wednesday, March 13, the two-hour class will be held at The Standard, once a month for three months (March, April and May) from 7 to 9 p.m. ($50 per class). Burning questions like, "Do I really have to wear a tight dress to score a dude in Miami?" and "Do I just have to leave this city all together to find love?," will be answered.
"But rather than offer one-size-fits-all dating tips, I encourage my students to jump off the crazy, overanalyzing wheel and instead start gaining clarity on what they really want from a partner — and then instructions on how to get them — for keeps," Nikki says. Armed with mock dating scenarios, worksheets, dance moves, and anyone-can-do-it meditations, The Love Club offers an interactive manual for a fun and fulfilling love life.
On a monthly basis, Nikki will guide a group of fellow inspiring love seekers, and shed light on the repetitive beliefs that block us all from giving and accepting the love we are meant to share. So are you ready to revamp your dating game? Because Nikki is ready to teach you the tools to date — and find that perfect mate. To RSVP for The Love Club, email nikki@nikkinovowrites.com.