Decoding the Opposite Sex – Relationship Expert Panel & Mixer
Saturday, 03/09/2013, 07:30 pm – 10:00 am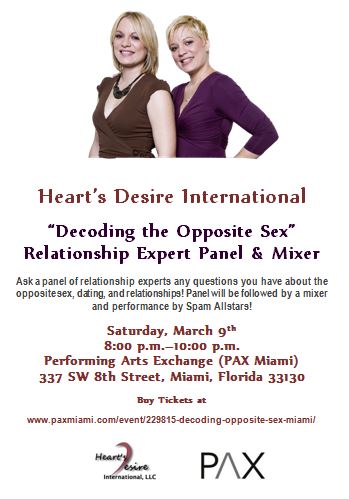 PAX Miami
337 S.W. 8th Street,
Miami, Florida 33130
More Info Link
FOR IMMEDIATE RELEASE:
Ever Wonder What Makes Members of the Opposite Sex Say and Do What They Do When it Comes to Dating, Sex, and Relationships?
"Decoding the Opposite Sex" Relationship Expert Panel & Mixer
Presented by Hearts Desire International (www.heartsdesireintl.com) on March 9th
MIAMI – March 9th, 2013– Why is it that men and women act and react so differently when it comes to dating, sex and relationships? Is asking someone out on a date via text a sign he's not really interested? Does the fact that you've gone out 6 times mean you're now in "a relationship"? Is there really such a thing as "casual sex" when it comes to women? If you have asked yourself questions like these and you want the real answers, you'll want to attend the "Decoding the Opposite Sex" Relationship Expert Panel and Mixer on March 9th at Performing Arts Exchange (PAX).
In this co-ed event for singles and couples, men and women will have the opportunity to ask a panel of relationships experts led by Gladys Diaz (@Glad1Diaz) and Michelle Roza (@MichelleRoza1) – a.k.a. "The Love Twins" – of Heart's Desire International (@HeartsDesireInt) all of the questions they've always wanted to ask about why members of the opposite sex react so differently when it comes to dating, love, communication, and, of course, sex! People will be asking questions live, as well as through social media via Twitter (#SexDecoded).
After the panel's Q&A session, singles will have an opportunity to mix and mingle with other singles while couples can enjoy a date night. Then, at about 11:30pm, everyone will get to enjoy and dance the night away to the Afro-Cuban sounds Spam Allstars.
"Having a great relationship is not about playing games, following rules, or seeing the opposite sex as the enemy that needs to be conquered. It's about being who you really are, because that's who you want the other person to fall in love with," says Heart's Desire International co-founder, Gladys Diaz. "By understanding how the opposite sex thinks we can begin to stop taking things so personally and start making our relationships work! That's what this event is about – learning more about ourselves and one another in a fun, casual setting so that we can have the results we want in our relationships.
Heart's Desire International specializes in empowering women to have the lives and relationships they want and deserve. Their down-to-earth and sometimes controversial approach to dating and relationships have helped hundreds of women attract, create, and nurture the relationships of their dreams. Just ask the graduates of their programs, who swear by the effectiveness of the company's methods in teaching them to have successful relationships. Heart's Desire often receives wedding announcements from graduates of the singles and girlfriends programs and thank-you notes from the wives whose marriages have been transformed into passionate, peaceful, intimate relationships.
To for more information and to purchase tickets, visit:
http://www.paxmiami.com/event/229815-decoding-opposite-sex-miami/